The highlight of the surprise bath bomb is the surprise toy in the ball, we can customize all kinds of themed toys you want for customers, superheroes, small animals, magic themes, festival themes are all within the customizable range, we are a family of 20 years The above bath bomb factories are supported by a mature supply chain, and the materials of the toys can also be customized, such as PVC or silica gel.
Packaging can also be customized, display packaging or gift box packaging.
Natural ingredients: cruelty-free, vegan safe, natural bath bombs are preservative-free, non-irritating, no toxic or harmful will ever enter our products, suitable for all skin types, even sensitive skin, designed for children.Our bath bombs are made with the highest quality ingredients made from pure natural plant coloring, and we do it for you. The only thing you need to buy and enjoy.
Benefit: This organic bath bomb is made with natural deep sea mineral salts rich in essential oils
EASY TO CLEAN: Pure natural plant pigments create beautiful colors in the water that dissolve and rinse easily, no stains on your bathtub. No pigment residue on your child's skin either! If you hate the feeling of sticky and dirty bath bombs, try our Bath Bomb.
Please take care of your child 3 years old
Product Name
bath bomb set with Toy inside
Features
Pure natural ingredients, safe and fun.
Function
Increases the pleasure of bathing. Deeply cleanses and relaxes the bodyLathers richly and dissolves easily with water.Removes body impurities and exfoliates.Long-lasting fragrance retention.
Lathers richly and dissolves easily with water.
Removes body impurities and exfoliates.
Long-lasting fragrance retention.Gift set, round, custom shape. Includes toys and more.
Shape
Gift sets, round, custom shapes. Includes rings, toys, etc.
Multi-packaging
Single Pack Mixed Pack Gift Set Children's set
Services
Customized packaging, shapes, logos
Weight
Support customization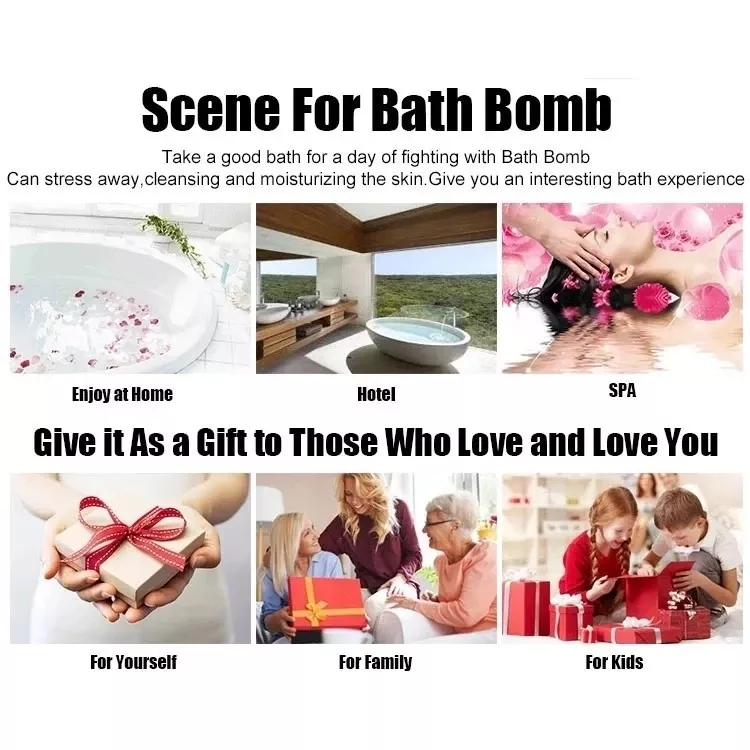 Our Advantages
1. Low MOQ, suitable for trial order and small order at beginning of business.
2. DDP services. Door to door service, no worry about the shipment, tax and custom clearance.
3. Professional R&D team for your private OEM services.
4. Good quality control matches with ISO22716 and GMP 211 for US and Europe markets.
5. Daily production capacity up to 100,000 pcs or 300,000 bottles.
6. Could be Parabens free, Sulfate free, Vegan, Organic, HALAL, Kosher, RSPO, REACH.
7. Gold Supplier for big brand and retainers: Walmart, Testco, Michaels, Kohl's, Claire's, Disney and many other retailers and importers.