Natural ingredients: cruelty-free, vegan safe, natural bath bombs are preservative-free, non-irritating, no toxic or harmful will ever enter our products, suitable for all skin types, even sensitive skin, designed for children.Our bath bombs are made with the highest quality ingredients made from pure natural plant coloring, and we do it for you. The only thing you need to buy and enjoy.
Benefit: This organic bath bomb is made with natural deep sea mineral salts rich in essential oils
EASY TO CLEAN: Pure natural plant pigments create beautiful colors in the water that dissolve and rinse easily, no stains on your bathtub. No pigment residue on your child's skin either! If you hate the feeling of sticky and dirty bath bombs, try our Bath Bomb. (Please take care of your child 3 years old)
Product Name

Bath Bomb Gifts Set

Features

Pure natural ingredients, safe and fun.

Function

Increases the pleasure of bathing. Deeply cleanses and relaxes the bodyLathers richly and dissolves easily with water.Removes body impurities and exfoliates.Long-lasting fragrance retention.




Lathers richly and dissolves easily with water.




Removes body impurities and exfoliates.




Long-lasting fragrance retention.Gift set, round, custom shape. Includes toys and more.

Shape

Gift sets, round, custom shapes. Includes rings, toys, etc.

Multi-packaging

Single Pack Mixed Pack Gift Set Children's set

Services

Customized packaging, shapes, logos

Weight

(Support customization)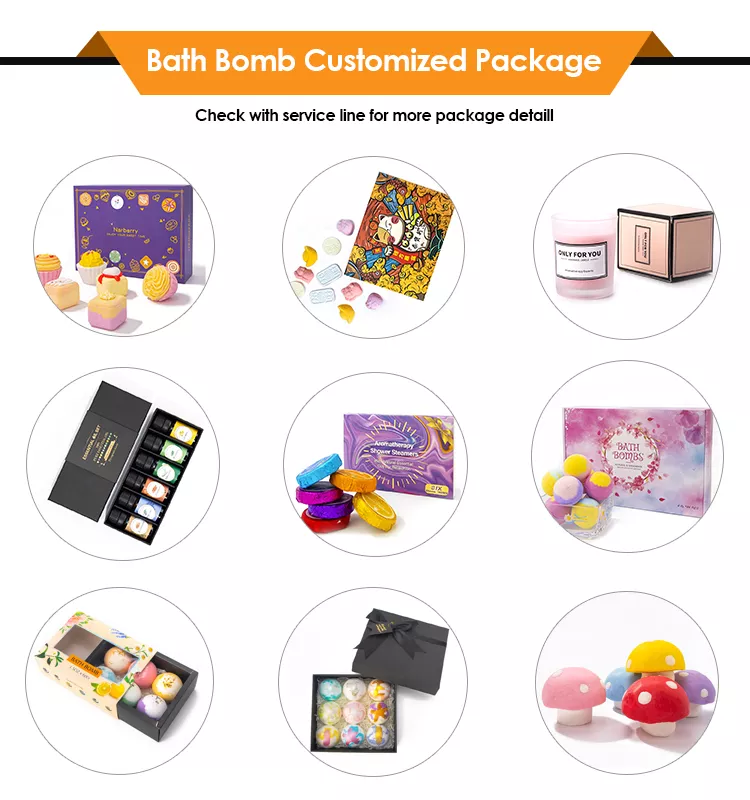 ---
1. Can you do custom bath bomb branding?
We are an oem bath bomb factory, we can help you with sampling and formulation, sourcing and sourcing of raw materials and packaging materials, work design.
2. Do you have other packages? Because I don't like the packages you guys are offering right now.
Yes, we can change other packages according to your requirements. We will introduce some others to you first, or we can design according to your drawings.
3. Are you a bath bomb manufacturer or a trading company?
We are a professional manufacturer with more than 300 workers in Huizhou, China.
4. What is the MOQ for your OEM products?
Minimum order quantity per item is 1000.