Features
Ball shape bath bombs with potpourri and nice flavors (Rose, Lavender, Coconut, Strawberry, Vanilla and Raspberry), amazing gifts for friends, lovers, and luxury soak for bathing to relax your body and soul.
Rich bubbles and bright colors: Women bath bomb set brings you a brand new bathing experience. When you throw them into the water, they will begin to release colorful bubbles and ingredients that are good for the skin. When bathing in the colorful bathtub, enjoy the seductive bath bomb bath experience. Bathing in the bathtub in the colorful fragrant water is also very pleasant.
We only use carefully chosen ingredients that are gentle on your skin to provide you with the care and pampering you deserve. Made with nourishing Shea Butter and Coconut Oil. Lasting, gentle, nourishing, relaxed, without any stimulation or adverse reaction. After your bath, you will be left with moisturized and nourished skin! Enjoy your romantic bathing time.
Packing
6 x 120g ball shape bath bombs in printed paper box with brief instruction sheet, 12pcs in a shipping carton.
Each paper box with tissue paper protection to avoid scratches.
Usage
Put bath bombs in tub for soaking, usually put one pc in tub and u can put more if u wants.
Handmade Luxury Lavender Rose Petal

bath salt

Ball Dried Flower Bath Bomb Set For Women Spa Gift Set

Green tea, tea tree, glycerin

Multi colors

Deep cleaning, Remove odor, Detox, Anti inflammation, Tightening,Whitening,Anti-hair loss

100g

300 PCS

square

1.Inner box+Outer carton

2.according to customer requirement

1.printing logo
2.custom logo are welcome

24 hours to complete the proofing

By air express,air transport,sea transportation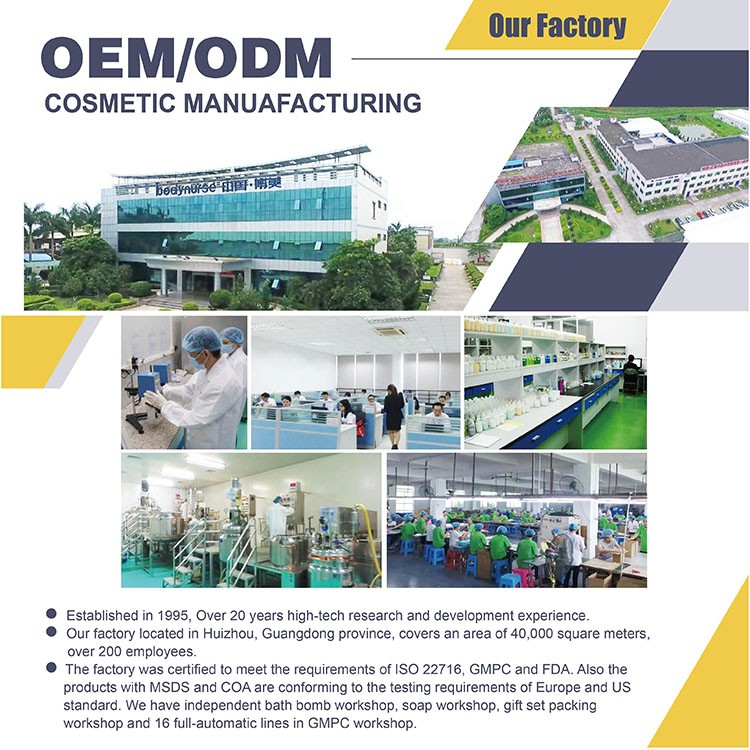 Boymay as a excellent bath bomb manufacturer and bath bomb supplier with more than 27 years of experience in the personal care and beauty field, mainly produces various bulk bath bomb wholesale supplies. Such as dried flower bath bombs, built-in toy bath bombs, crystal bath bombs, rainbow shower gel bombs, fruit bath bombs, streamers, etc. For bath bombs, we accept OEM ODM request. Besides bath bombs, we can also accept OEM designs for soaps, shampoo gels, masks, body lotions, etc.
Our factories and services:
We have introduced advanced production equipment for research and production. Every product from Boymay needs to go through strict inspection and re-inspection before shipment. BODYNURSE also has multiple stores on Amazon and is GMPS and ISO certified.
In addition to a huge production base, advanced R&D technology and equipment, Nagaliving also has a reliable and talented design team who are able to select products and accessories to create stylish products.
Our mission:
In the process of continuously improving quality, we believe.
We believe in continuously providing the best service.
In becoming your partner to win, we believe.