Our bath bombs are added with good essential oil and other raw materials, which can remove the dirt and small insects on the pets, make the pets have a fragrant taste, even the thick hair can be clean.
Our Pet-Friendly Bath Bombs are suitable for dogs, cats, and other small animals. They help to remove dirt, odors, and excess oils from their fur, promoting a clean and healthy coat. The moisturizing properties of the bath bombs help to soothe dry and itchy skin, providing relief for pets with skin sensitivities.
Contact us today to discuss your customization requirements and place your order. Our factory accepts OEM and ODM orders,including design,logo,box customization.
Customization details
| Customization Options | Details |
| --- | --- |
| Shapes | Round, bone, pawprint, fire hydrant, animal shapes |
| Scents | Soothing gentle scents for pets - oatmeal, aloe, chamomile |
| Colors | Muted pet-friendly colors |
| Ingredients | Colloidal oatmeal, bentonite clay, baking soda |
| Add-Ins | Natural shampoo, conditioner, flea treatment |
| Packaging | Pouches, boxes, jars with pet motifs |
| Labels | Custom branding, name, logo for pet product |
| Sizes | Different sizes for small, medium, large dogs |
| Order Quantity | 1000 bath bombs minimum per variant |
| Certifications | Animal-safe ingredients, FDA registered facility |
Let us know your preferences for shapes, scents, and sizes. We'll create soothing bath bombs tailored specially for pets!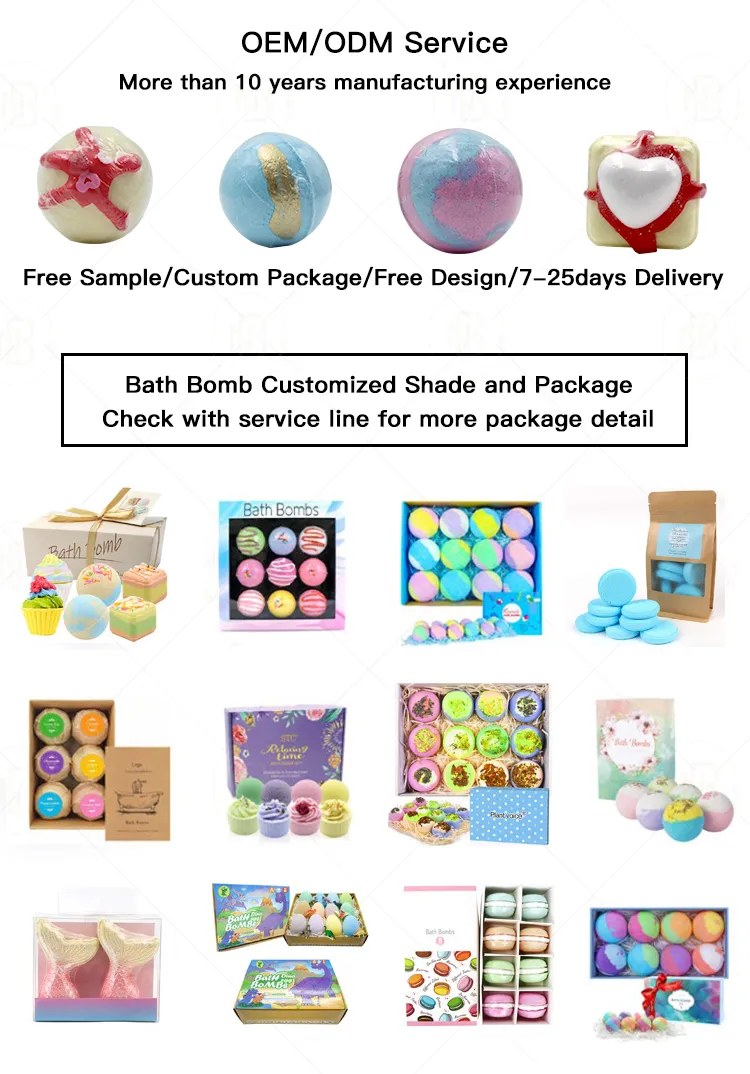 For custom colors, fragrances, quantities, or any inquiries, please message us. 7x24 Hours,we will reply you in 12 hours after your inquiry.
How to get free samples
1、You need to send us an inquiry before getting a free sample.
2、You need to pay for the shipping cost, it depends on your address.
FAQ
1. Can you do custom bath bomb branding?
We are an OEM bath bomb factory, we can help you with sampling and formulation, sourcing and sourcing of raw materials and packaging materials, and work design.

2. Do you have other packages? Because I don't like the packages you guys are offering right now.
Yes, we can change other packages according to your requirements. We will introduce some others to you first, or we can design according to your drawings.

3. Are you a bath bomb manufacturer or a trading company?
We are a professional manufacturer with more than 300 workers in Huizhou, China.

4. What is the MOQ for your OEM products?
The minimum order quantity per item is 1000.