As the bath bomb dissolves in the water, it reveals a plastic capsule containing a beautiful ring. This product is an exceptional choice for holiday gifts, perfect for gifting to loved ones and friends. The material of the rings inside the capsules can be customized according to your specific preferences.
Our Bath Bombs With Rings offer a unique and memorable bathing experience. Each bath bomb is carefully handcrafted using premium ingredients, ensuring a luxurious and soothing soak. As the delightful scents and vibrant colors fill the air, the anticipation builds, leading to the exciting moment when the plastic capsule emerges from the fizzing bath bomb.
OEM orders are always welcome. Professional R&D team can offer you the free design and support.
Customization details
| Specification | Details |
| --- | --- |
| Product Name | Bath Bombs With Rings |
| Materials | SLS-free ingredients like baking soda, citric acid, shea butter, essential oils |
| Shapes | Round, heart, flower, star, custom shapes |
| Sizes | Standard 2.5" diameter, can customize larger or smaller |
| Scents | Customize signature scents or aromatic blends |
| Colors | Custom color palettes and designs |
| Rings | Stainless steel rings sealed inside, customizable styles |
| Packaging | Custom printed plastic box with foam insert |
| Labels | Custom full color label with your brand |
| Certifications | ISO, GMP, MSDS certified |
| Order Quantity | 1000 - 100,000+ pieces |
| Lead Time | 15-20 days production, 5-7 days shipping |
| Payment Terms | 30% deposit, 70% balance before shipping |
Please let me know if you need any other details on customizing bath bombs with rings! As the technical engineer, I can advise on materials, molds, rings, etc.
Customized service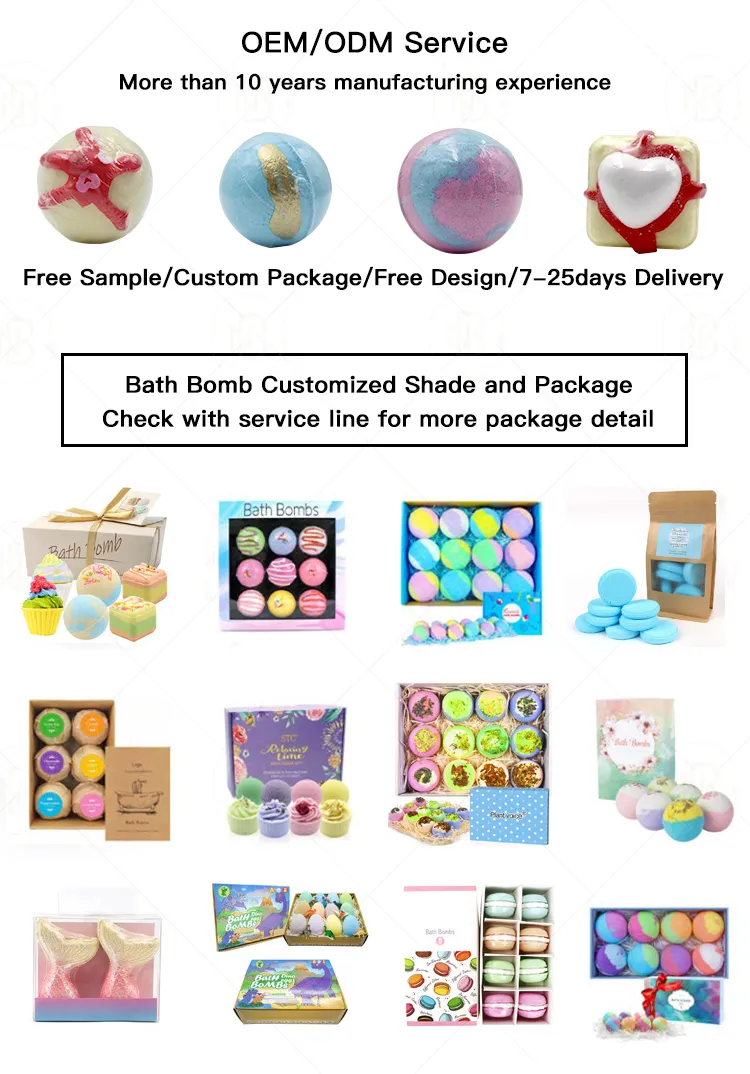 Size and weight customized

Our Advantage
1. Low MOQ, suitable for trial order, meets the requirement at the beginning of a business.
2. Door-to-door service, no need to worry about the shipment.
3. We have our own brand and store in China, so we can get feedback from the customer fast.
4. We have neutral packing without our logo, you can use the gift box directly with low MOQ.
5. All bath bombs contain high-purity essential oil, which is more effective for skin care.
FAQ
Q: What's your minimum order quantity (MOQ)?
Re: We normally take OEM Orders from 5000 US dollars based on printing and packaging requirements, but please could you tell me what your normal quantity is? We can consider and help when it is possible.

Q: Can we use our own private-label bath bomb design?
Re: Yes, you may. You can offer your design in AI format.

Q: Can we have our bath bomb mold made?
Re: Yes, you may. The cost depends on the complexity of the shape.

Q: What's your lead time?
Re: Approximately 30 days after we receive deposit payment and artwork confirmation.

Q: What's your payment term?
Re: We ask for a 30% deposit payment when you place the order then a 70% balanced payment is required after shipment against BL shipping documents by email.

Q: Are you a bath bomb manufacturer or a bath bomb company?
Re: We are a cosmetic manufacturer that was developed in 1995 which has been over 27 years.

Q: What do you do? What is your factory's strong product?
Re: We produce Body Care, Hand Care, and Foot Care Products and our most robust item is fizzers such as Bath Fizzers in different shapes and different types.