highest quality bath bomb - handmade in china - the Black Bath Bomb are made with top quality ingredients. every bath bomb is moisture wrapped and bagged to preserve freshness to the max to give you the best bath bomb experience around.
advanced formula - super fizzy - dark and delightful. our lush bath bombs will leave your skin hydrated and moisturized. our unique blends of essential oils and epsom salts will ensure that you will leave your bath feeling relaxed and renewed, just drop your bath bomb in a tub of warm water and get ready to have a unique and dark one of a kind bath like no other.
very unique gift for guys - great for a relaxing night. great for his birthday or just for a nice suprise! get the gift that makes him say, "wow!"
a scent for a man - "man bomb" is a super manly scent loaded with anti-aging skin care benefits! the ultimate relaxation for men!
big bath bomb - each black "man bomb" bath bomb weighs in at approximently 7.5oz. here at the bath bomb co. we have found with trial and error that this is the perfect size bath bomb for minimal mess with the best experience possible. buy now and enjoy!

Product Name

Menior New product black bath bombs with Gold shimmer Moisturizing organic bath bombs

MOQ:

sample: 1-20 pcs

private label: 3,000pcs

Mass production : 10,000pcs custom scent and box

Effects:
whitening, moisturizing, relaxing,etc
Package:

-Shrinkle film

-Customized

Delivery Time:

sample: 4-7 working days

OEM production: 3-4 working weeks after payment

Product Features & Functions:
1. Bring the SPA bath to home. They fizz and foam for cleansing with great scent & colorful water with skin- repairing and relaxation effect.
2. Effectively promote the blood circulation.
3. The product has aromatherapy efficiency, you will feel very comfortable when you are bathing.

Direction:
Drop a fragrant fizzer into your warm bath water,allow it to dissolve and enjoy a refreshing and relaxing fragrant soak.

Caution:
For external use only.
Keep in cool,dry place
Avoid contact with eyes,do not eat.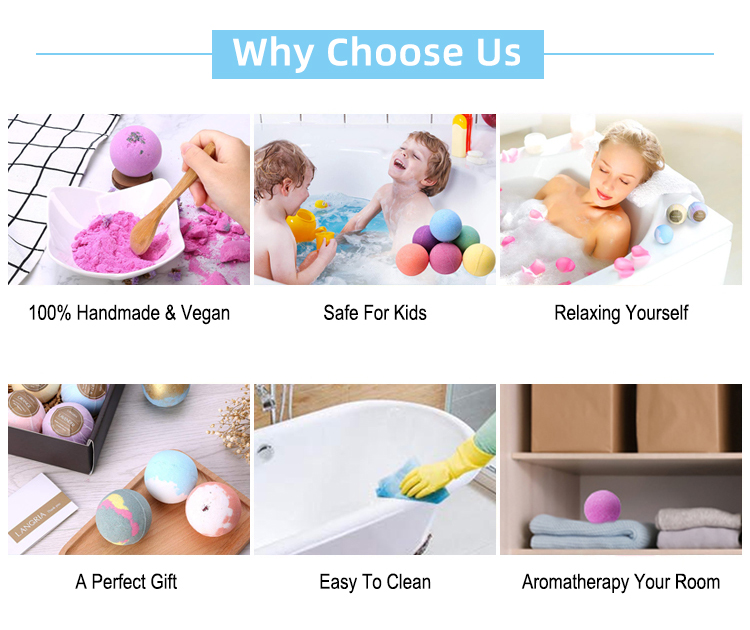 Q1: Can you provide samples?
A: Body Nurse as a professional bath bomb supplier can provide you with free samples!
Sample shipping costs are borne by you.
After confirming the order, we will refund the fee to you.
Q2: Can you provide OEM service?
A: Yes, of course. For more details about OEM service, please feel free to contact us.
Q3: How to place an order?
A: Sample or small order: We can start ordering for you.
After approving our samples, please send us your purchase order and we will send you a pro forma invoice.