bath bombs are filled with natural oils and do not contain any toxic chemicals. It means they do not have such compounds, which cannot cause irritation and infections on the skin. No matter which skin type you have and if it is sensitive or not, using bath bombs is completely safe.

Unlike other bath products that rely on a chemical makeup, bath bombs are all-natural, chemical free bath time treats. That means there are no harsh irritants that could irritate your skin. Instead, they're protective and pacifying with amazing skin softening properties.
A bath bomb adds emollients and softeners to your bath's water that moisturize and indulge your skin. No matter what your skin type, the beneficial ingredients in bath bombs leave it soft, supple, and silky. Yes, it'll cleanse your skin, but the ingredients inside will also pamper and soothe it. Your skin will feel velvety, sinuous, and youthful.
| | |
| --- | --- |
| | |
| | Personal care, Spa, Hotel, Gift etc. |
| | 100gx4pc, also can be customized |
| | Ball and other shape can be customized |
| | Fruit, Tea, Plant Flower, Milk, Candy, Chocolate, Ocean and etc. |
| | Rose,Lavender,Lemon,Orange, Bergamot, Grapefruit, Peppermint, Camomile,Jasmine,Rosemary,Sandalwood,Tea Tree, Pepermint, Clove, Ginger, Eucalyptus, Ylang-Ylang, etc. |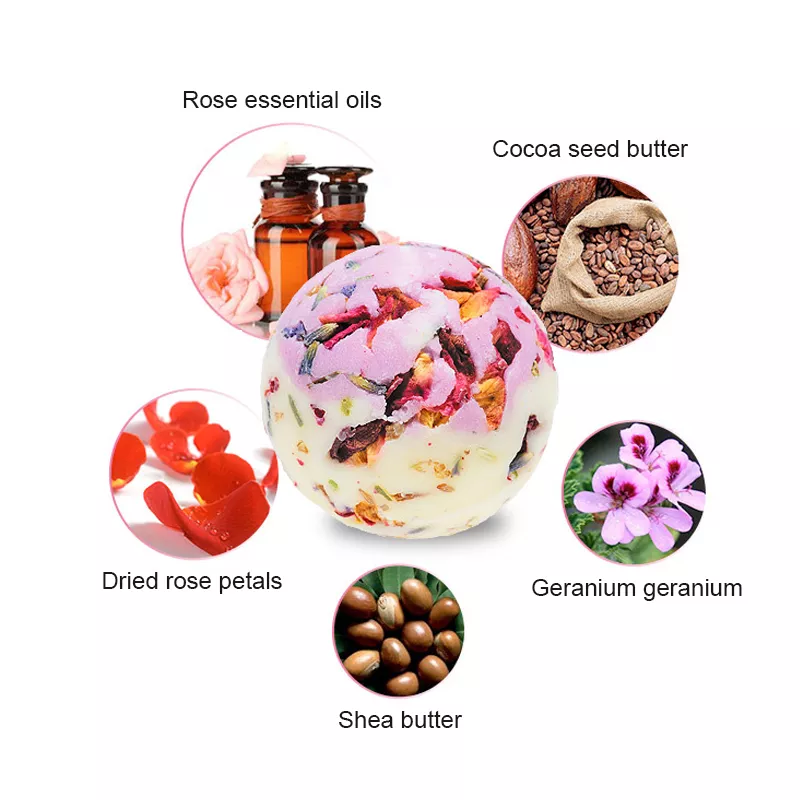 About processing customization
We are a professional manufacturer, support OEM ODM, product variety, quality and quantity. Customized products are sampled within 7 days, and the specific time is subject to the actual order size!
About delivery
In-stock products can be shipped within two days. According to the size of the order, customized products are generally sent to DHL or your freight forwarder. For details, please consult online customer service
About the goods
Your products have undergone strict quality inspection before leaving the factory, so when you sign for the product, please open the box for acceptance. If the product is damaged and other quality problems cannot be used, you can contact customer service.