Dropping a rainbow bath bomb in warm bath water, it will dissolve immediately and you will get a great rainbow bubble in seconds. Bathing could be a funny experience.

Create Magic in your bath with our Rainbow Cloud bath bomb, handmade with Natural and Vegan ingredients to set the mood for a relaxing spa experience. Our Bathbombs are Tear-Free and Kids Friendly
Made with Plant Based skin loving ingredients, these rainbow bath bombs add color to your bath without staining the bathtub or irritating your skin. They dissolves cleanly without leaving a residue.

Features:
1. Pure natural plant and essential oil composition, effective and safe to use.
2. Best aromatheraphy can relax your body and mind, moisturize your dry skin and ease muscle discomfort, releasing from the tired situation.
3. Can effectively soften cuticle, remove dead skin and subcutaneous fat, make skin smooth and tender.
4. Rich aroma, dense foam, stable product quality,dry and not easy to absorb moisture, and maintain a long period.
5. Delicate and compact, easy to carry, a great choice for business trip or a holiday.
6. An easy and simple way to have a spa at home.
6PCS 01 boxes (rose + osmanthus + honeysuckle + rosemary + strawberry + lavender)
6PCS 02 box (Dream + Sweet Orange + Blueberry +Green Tea + Calendula + Lavender)
8PCS set box(Lavender + Strawberry + Marigold + Rose + Green Tea + Rosemary + Honeysuckle + Osmanthus)
Personal care, Spa, Hotel, Gift etc.

Star,moon,rainbow or customer's request

Rose,osmanthus,honeysuckle,rosemary,strawberry,lavender,calendula,

green tea,blueberry,sweet orange,etc)

Rose,Lavender,Lemon,Orange, Bergamot, Grapefruit, Peppermint, Camomile,Jasmine,Rosemary,Sandalwood,Tea Tree, Pepermint, Clove,

Ginger, Eucalyptus, Ylang-Ylang, etc.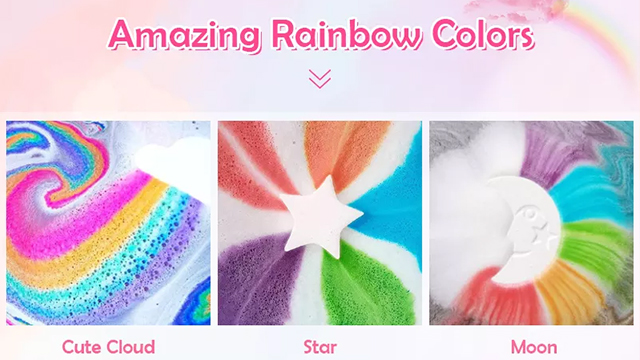 BodyNurse as a professional bath bomb manufacturer dicret sale oem / odm accept product
1. private label bath bomb accepted
2. customized color of product accepted
3. customized smell of product accepted
4. customized color of package accepted
5. print your logo accepted
6. glad to offer other customized service.
welcome to contact our sales to get more details.