A cloud shaped handmade bath bomb, placed in water, can produce iridescent bubbles. The color is absolutely gorgeous and luxurious, what is printed into the eye is the dreamy color and brings endless fun to users. Ingredients: dead sea salt, avocado extract, natural plant essential oil, coconut oil, baking soda, etc. It can relieve skin sensitivity, moisturize skin, relieve pressure, and is a great spa product.
In addition to the cloud shaped bath bomb, we also have the shape of the moon and the star. They can also have colorful bubbles.
Even if it is a colorful bubble, it does not contain any artificial dyestuffs, they are natural plant colorants. They will not stain your bathtub and skin, and will not cause damage to your skin. Don't worry to start this dream hot spring bath experience. It's a "mobile spa" that you can take with you wherever you go. Whether you are in a hotel, home, spa or other places, as long as there is a bathtub in the bathroom, you can have a spa.
| | |
| --- | --- |
| Product Name | Cloud Shape Bath Bomb |
| Function | Relaxing, Moisturizing, Hydrating, Exfoliating |
| Color | White or customized |
| Fragrance | Fruit scents, Candy and so on |
| Ingredients | Essential oil, Dead sea salt, 100% Nature Ingredients |
| OEM/ODM | Accept |
| MOQ | 1000pcs |
| Weight | 30g-200g also can be customized |
| Shape | Cloud shape |
| User | Everyone |
| Storage | Please store in a cool place and avoid direct sunlight |
| Package | PVC box, Heat shrinkable film packaging+ gift box or customized |
| Payment Methods | T/T, DP, L/C, Western Union, PayPal |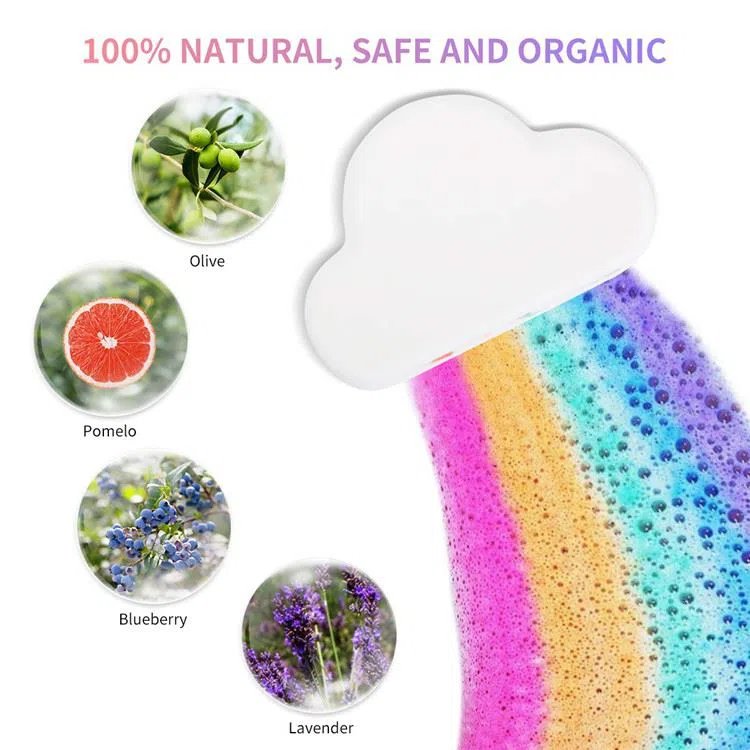 The sweet smell fills the whole bathroom, unique rainbow bathtub and water. This bath bomb is suitable for everyone. It also has a variety of flavors, such as milk, lavender, lemon, tea, ocean and so on. It's a great gift for your wife, girlfriend, mom, daughter and grandmother.
As for packing, we reinforce the packing only for the sake of perfection and guarantee the perfect products. It's packed individually, so it looks more like a gift box. If you have any problem with packing, please contact us and we will actively reply and solve the problem.