Colorful star fizzy bath bombs are particularly cute. Kids will love it. Not only are the balloons colorful, but they are also interesting in the shape of stars. And can moisturize skin, bring aroma, enjoy a magical bath time.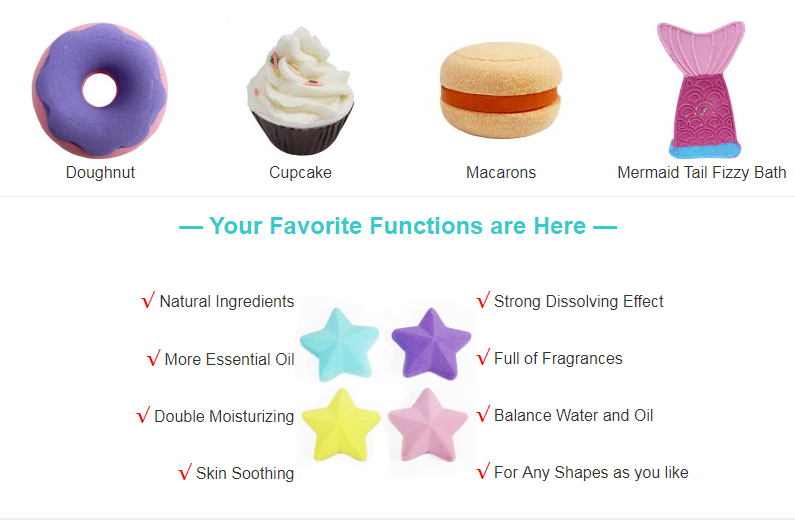 What is an excellent bath bomb?
ORGANIC NATURAL RAW MATERIALS: FDA certified, all raw materials are natural and organic, with low adhesion of plant pigments, will not cause any harm to your bathtub, all ingredients are completely soluble in water, no residue, easy to clean.
Rich in essential oils and other skin care ingredients: Relax and nourish the skin. Pure natural plant essential oils have a very good nourishing and healing effect on the skin, and the plant aroma is more elegant and lasting. Long-term use can radically improve skin quality.
Rich colors: The outer color of the bath ball is the same as the color of the model, and the foam formed is also colorful. The long-lasting fragrance and rich foam make the bath completely enjoyable.
Floating effect in water: In fact, the lighter the bath salt ball of the same volume, the better. Low-grade bath balls add starch and other cheap ingredients to float. Bath balls like this are not completely water soluble and are made of cheap materials.
Exquisite packaging: The bath ball supports customized packaging, you can choose what we recommend for you, or let us design a new packaging that suits you!