Our shower steamers are meticulously handcrafted, infused with a carefully curated blend of essential oils that release enchanting scents as they react to the warm water of your shower. As the steamer dissolves, the delicate and captivating fragrance fills the air, creating a sensorial journey that uplifts your spirits and calms your senses.
But what sets our Shower Steamers apart is the inclusion of carefully selected dried flowers. As the steam rises, the shower environment transforms into a blossoming sanctuary, adorned with the beauty and elegance of these handpicked blooms. The fusion of aromatic scents and the ethereal presence of dry flowers elevate your shower experience, immersing you in a world of natural beauty and tranquility.
Customization details
Details
shower steamers with dry flowers
Skin Types
All skin types
Volume
40g*8pcs
Key Ingredients
(LAVENDER SOOTHING REPAIRING bath salt):
Sodium Bicarbonate、Citric Acid, Sea Salt, Zea Mays(Corn) Starch, Sodium Coco-Sulfate, Cocamidopropyl Betaine, Theobroma Cacao(Cocoa) Seed Butter, Butyrospermum Parkii(Shea Butter), Lavandula Angustifolia (Lavender) Flower Extract, CI 51319
Color
8 different colors
MOQ
Stock: 10 pcs;
Custom logo:1,000 Boxes
Delivery Time
25~30 days after deposit
Payment
T/T, L/C, Credit card, and so on
Application
1.Place one tablet on the shower floor away from heavy stream;
2.Prevent it from being submerged;
3.For best result, use hot water.

Use 1-2 tablet per shower. Don't place under direct water stream but on the edge of the stream. One tablet should last 5-10min.
The Shower Steamer Variety Pack is not intended for use as a bath bomb. PLEASE AVOID DIRECT SKIN CONTACT.
Shipment
By sea or air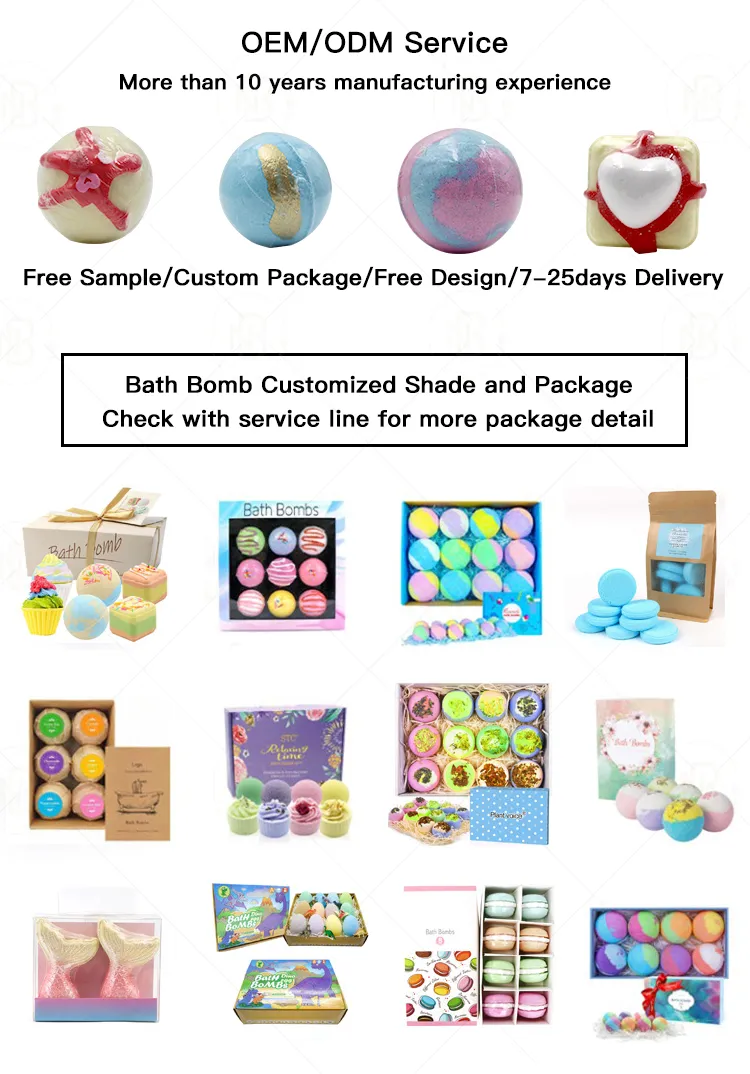 Sample service:
Our company provides samples service. You can send us your samples detail or pictures for copying. Our sample room will make samples according to the information you provide. If you only need to arrange the bath bomb samples, we will not charge you. But if you need to make samples with packaging, then we need you to pay a certain sample fee to our packaging supplier. But this samples charge will refund you after you confirm order.
How to get free samples
1、You need to send us an inquiry before getting a free sample.
2、You need to pay for the shipping cost, it depends on your address.
For custom colors, fragrances, quantities, or any inquiries, please message us. 7x24 Hours,we will reply you in 12 hours after your inquiry.
If you are interested in shower steamers products, these styles of shower steamers you can also pay attention to.