Features:
* CREATE OWN
bath bomb
(Strawberry & Flower & Orange): You can make bath bomb at home.
* COMPLETE KIT & SUPER VALUE PACK & CRAFTY FUN: What could be more fun than making your own bath bomb to play and wash with? Feel free to play around with the colors! Keep them for yourself and turn your bath or shower into a party... or give them to your friends and family as gifts!
* KIT INCLUDES: Bath Bombs DIY ingredients,Baking Soda, Salt, Citric Acid, Starch,Spoon, Essence, Dye, Dried Flower, Mold,Comprehensive Instruction Guide.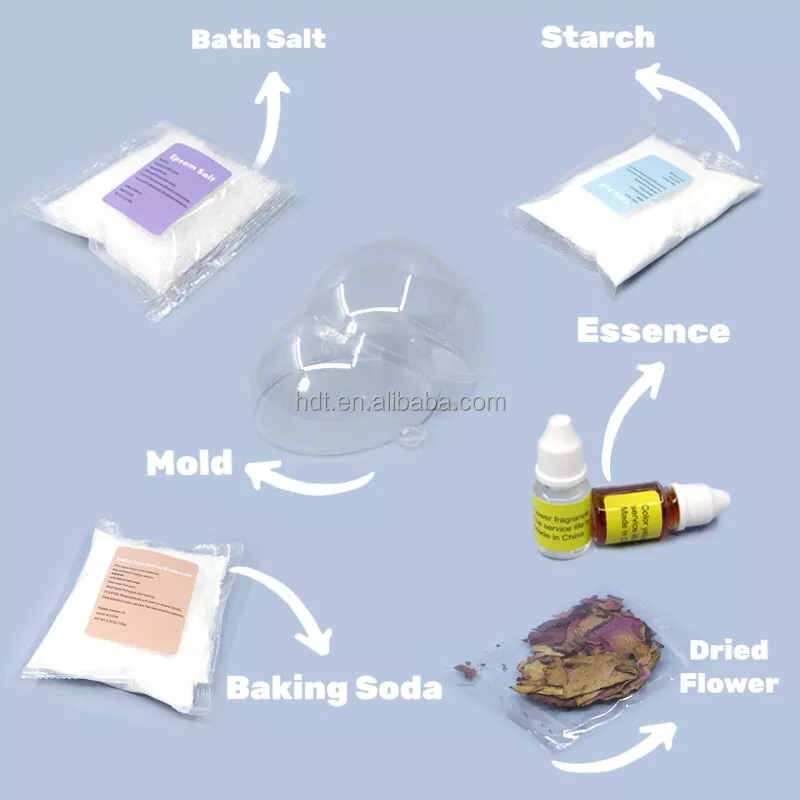 Steps of Making Bath Bomb:
Step 1: Mix the dry ingredients together in a bowl, then mix the liquid ingredients in a separate bowl or jar.
Step 2: While constantly stirring the dry ingredients, slowly mix in the wet ingredients, a small spoonful at a time.
Step 3: With a spoon or your hand, pack the mixture firmly into each half of a bath bomb mold and then press the two halves together.
Step 4: Use rubber band to tap slightly around the molds.To compact the mixture firmly into the molds, to prevent cracking.
Step 5: If you want to reuse the mold right away, you can carefully pop out the bath bomb onto a cookie sheet or similar surface and allow to dry for a few hours. Otherwise allow it to dry in the mold overnight.
---
BodyNurse is a bath bomb manufacturer specializing in the research, development and production of bath products such as natural bath bombs, Shower Steamers, bath salts, handmade soaps, hand soap effervescent tablets and bath gift sets.
We are located in Huizhou City, Guangdong Province, with convenient transportation. All our bath products meet international quality standards and are greatly appreciated in a variety of different markets around the world. The factory covers an area of 100 square meters and has more than 200 employees. The factory has passed the Sedex audit of GMPC, ISO22716 and SGS, well-equipped facilities and strict quality control throughout all stages of production, enable us to increase production capacity.
Our production capacity is in the leading position in China. Our monthly output reaches 2 million bath bombs, 3 million tons of bath salts and 100,000 sets of bath gifts. In addition, our excellent design team who are good at developing and designing fashion products will provide you with customized logos and beautiful packaging. MOQ warmly welcome ODM and OEM.
Due to our diverse products and thoughtful customer service, we have gained a global sales network covering the United States, Germany and Southeast Asia. If you are interested in any of our products or would like to discuss custom orders, please do not hesitate to contact us. We only focus on the research and manufacture of bath products for more than 20 years and will continue to do better. Warmly welcome your visit.