| | |
| --- | --- |
| Name | Individual bath bombs with rings inside them |
| Weight | 80g or custom |
| Shelf Life | 2 years |
| Shape | Cupcake donut shape or csutom |
| Color | Singer Colors,Colorful or Customized |
| Fragrance | Rose,Lavender,Lemon,Orange, Barry, Bergamot, Mint, Jasmine, Ocean or custom |
| Brand Name | Boymay |
| Ingredients | Natural, Organic, CBD, Vegan |
| MOQ | 1000pcs |
| Sample | Free |
| Certificate | Disney FAMA, FDA, ISO 22716, GMPC,SGS |
| Application | Personal care, Spa, Hotel, Gift etc, face cleaning, foot beauty, sauna, shower, massage, bath |
---
Enjoy the beauty of life with your wife
Individual Bath Bombs With Rings inside them: Enjoy the essential oil bath salt SPA at home, which is rich in mineral ingredients, leaving the skin smooth and soft.
Bath bombs with rings inside them have deep sea bath salt itself contains a variety of trace elements. It can be used to wash your face and bathe your feet. It can clean your skin. Long-term use will make your skin smooth, delicate and moisturized, allowing you to enjoy a romantic and beautiful bubble bath.
Real essential oils, really nourishing, your skin spa therapist: rich in pure plant essential oils, easy to absorb, mildly moisturizing and not greasy. Improve dryness, shrink pores, and make skin full of elasticity.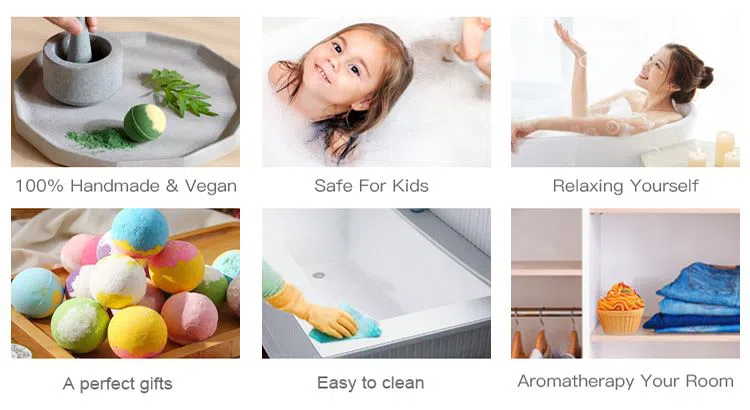 Using the step of Individual bath bombs with rings inside
1. Put in the bath bombs with rings inside them, open the surface plastic packaging, fill the bathtub with water, and then put it in the ndividual bath bombs.Enjoy yourself, soak your body in the bathtub for a few minutes and let it go.
2. After the bath bombs with rings inside them is dissolved, you can see a ring floating on the water, suprise!
3. Finally, rinse it off with clean water.
Main ingredients: Sodium bicarbonate, citric acid, sea salt, corn starch, cocoa seed butter, shea butter, plant extracts.