As a leading bath product manufacturer in China, we offer whimsical magic-themed bath bombs perfect for retailers seeking unique kids products.
Our magic bath bombs are playfully shaped like wizard hats, spellbooks, crystal balls, magical artifacts and more. Crafted with 100% natural moisturizing ingredients in vibrant colors. Infused with delightful scents like cotton candy, berries and lemon.
Each bath bomb contains a fun surprise like magic wands, mini crystal figurines, temporary tattoos, confetti and candy beads. Watch them fizzies to reveal the magical prize!
Fully customizable products available. Choose preferred shapes, colors, scents and surprises. Get your logo on these imaginative bath bombs! Minimum order 1000 units.
Our GMP and ISO certified facility adheres to strict quality and safety standards for bath products.
Customized Details
| Customization Options | Details |
| --- | --- |
| Shapes | Wizard hats, spellbooks, wands, artifacts, cauldrons |
| Colors | Vibrant colors - purple, blue, green, pink |
| Scents | Cotton candy, berries, lemon, bubblegum |
| Surprises | Mini wands, crystals, temporary tattoos, candy |
| Packaging | Gift bags, boxes with magic motifs |
| Branding | Custom logo, label designs |
| Order Quantity | 100 bath bombs minimum per variant |
| Certifications | FDA, GMP, ISO certified facility |
Let us know your preferences for magical shapes, scents, colors and surprises. We'll create delightful custom magic bath bombs for your brand!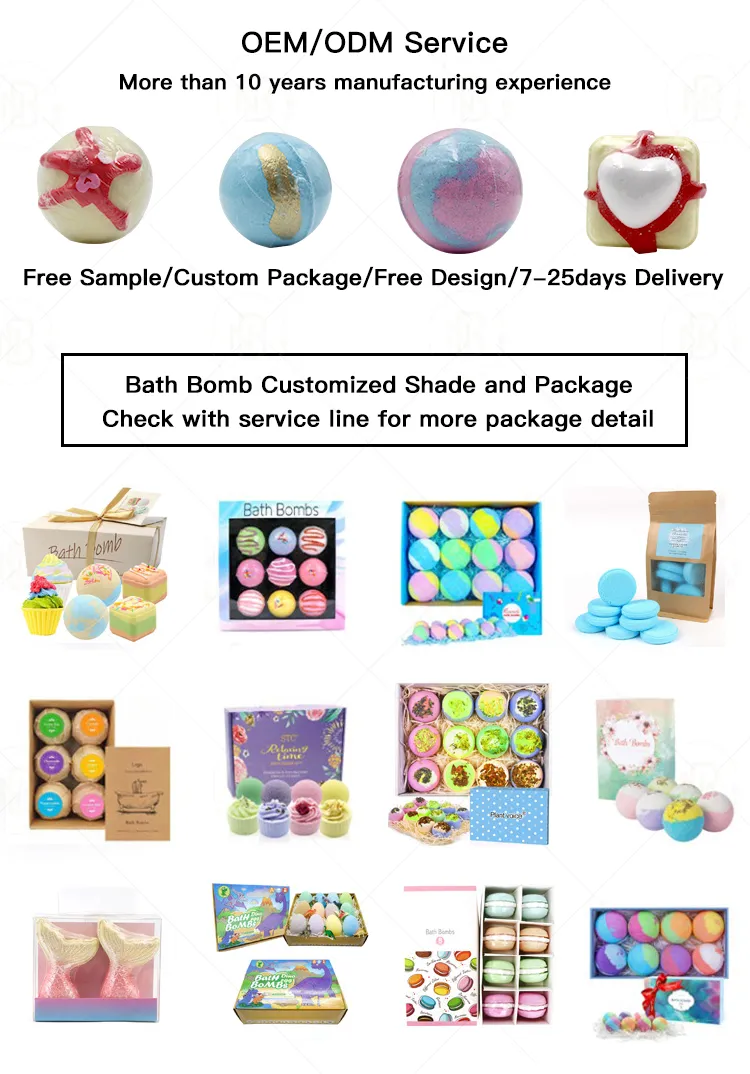 Our factory show

why choose us
1. We have 27 years of experience in the beauty and personal care industry, including 15 years of export experience.
2. Our factory has more than 50 professional equipment and machines, and the two factories add up to more than 20 production lines.
3. We can provide a full range of customized services. As long as you contact our salesperson through the link below to put forward your customized needs.
4. In terms of product quality, you can rest assured. Because we have a mature quality inspection team for 15 years.
5. We have participated in many large-scale offline beauty and personal care industry exhibitions. For details, please refer to the store homepage.
6. We have a product development team with 15 years of mature experience and unique technical formula.
Our rainbow bath bombs feature vibrant colors, dissolve quickly, and create plentiful bubbles. You may also want to check out our other rainbow bath bomb varieties.
FAQ
1. Can you do custom bath bomb branding?
We are an OEM bath bomb factory, we can help you with sampling and formulation, sourcing and sourcing of raw materials and packaging materials, and work design.

2. Do you have other packages? Because I don't like the packages you guys are offering right now.
Yes, we can change other packages according to your requirements. We will introduce some others to you first, or we can design according to your drawings.

3. Are you a bath bomb manufacturer or a trading company?
We are a professional manufacturer with more than 300 workers in Huizhou, China.

4. What is the MOQ for your OEM products?
The minimum order quantity per item is 1000.