Emerge feeling radiant and untangle the knots of a hard day with feeling rejuvenated.
Lavender, for an aromatic experience, this composition of crushed hemp leaves warmed with flowering lavender and smooth clary sage. Mint + Hemp to Help Soothe and give you a calm mind, improve your mood, and relax your body.
Fill your tub with warm water and drop bath bomb inside.
Soak and relax while the bath bomb dissolves releasing fragrance and color into your bath.
This is the best way to unwind after a long day!
These Bath Bombs will dissolve in water in 3 to 5 minutes.
Safe for all ages.
Product name

cbd natural organic bath bombs for men

Weight

100g, also can be customized

Shape

Ball and other shape can be customized

Application

Personal care, Spa, Hotel, Gift etc.

Fragrance

Fruit, Tea, Plant Flower, Milk, Candy, Chocolate, Ocean and etc.

EssentialOils

Rose,Lavender,Lemon,Orange, Bergamot, Grapefruit, Peppermint, Camomile,Jasmine,Rosemary,Sandalwood,Tea Tree, Pepermint, Clove,
Ginger, Eucalyptus, Ylang-Ylang, etc.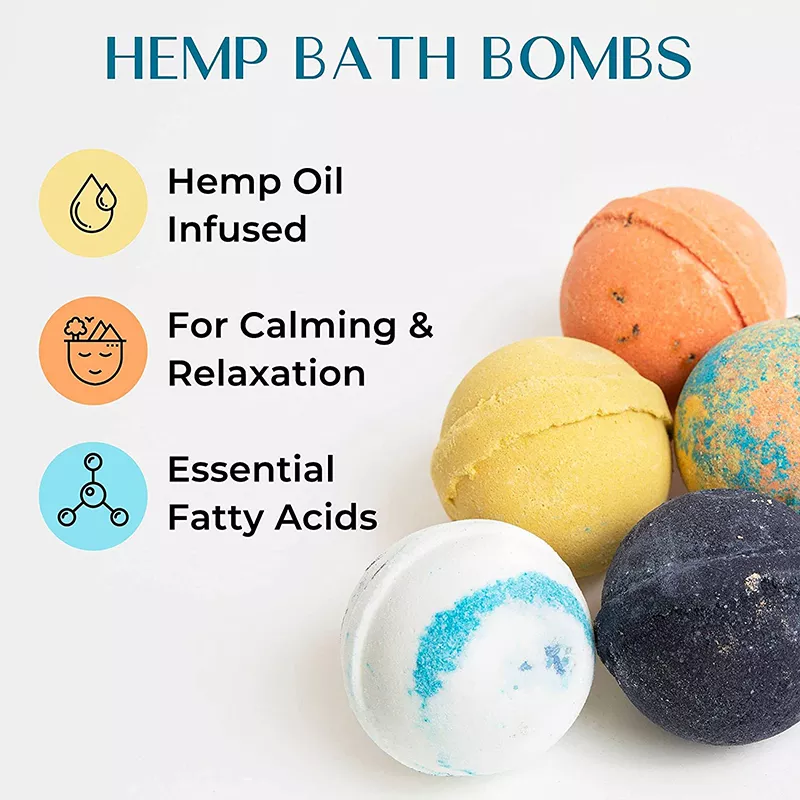 About processing customization
We are a professional manufacturer, support OEM ODM, product variety, quality and quantity. Customized products are sampled within 7 days, and the specific time is subject to the actual order size!
About delivery
In-stock products can be shipped within two days. According to the size of the order, customized products are generally sent to DHL or your freight forwarder. For details, please consult online customer service
About the goods
Your products have undergone strict quality inspection before leaving the factory, so when you sign for the product, please open the box for acceptance. If the product is damaged and other quality problems cannot be used, you can contact customer service.