Do you like the feeling of swimming in the blue sea? Do you like flying in the blue sky? Let's use our ocean blue bath bomb! It is an ordinary bath bomb, but it can bring you and your lover a good mood and experience.
| | |
| --- | --- |
| Product Name | Nature Ocean Blue Heart Bath Bomb |
| Function | Relaxing, Moisturizing, Fresh and tender skin |
| Color | Blue or customized |
| Fragrance | Flower scents |
| Ingredients | Essential oil, Citric acid, Shea butter, Plant essence, sea salt |
| OEM/ODM | Accept |
| MOQ | 1000pcs |
| Weight | 30g-200g also can be customized |
| Shape | Heart shape |
| User | All people |
| Storage | Please store in a cool place and avoid direct sunlight |
| Package | PVC box, Heat shrinkable film packaging+ gift box or customized |
| Payment Methods | T/T, DP, L/C, Western Union, PayPal |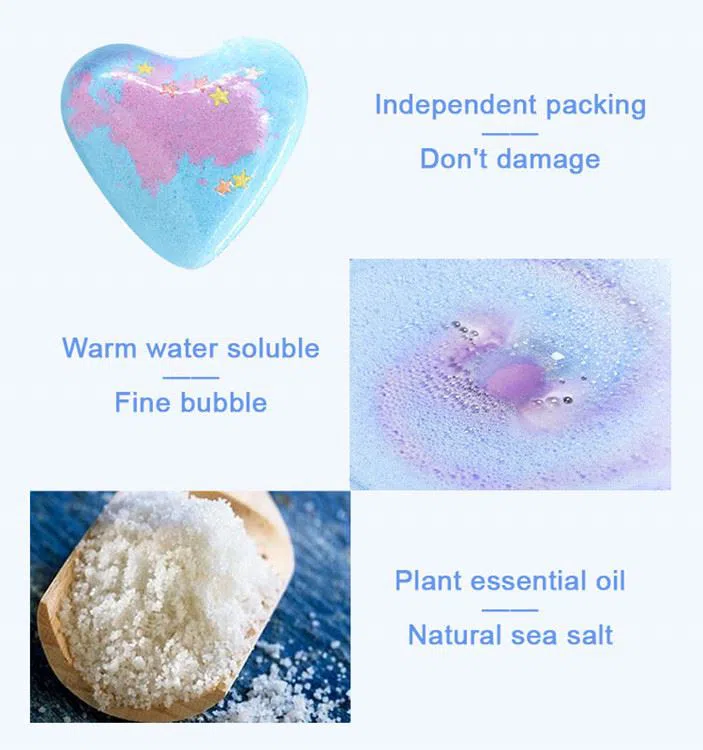 The blue heart shaped bath bomb, is a blue appearance, slowly releases its energy into a lush bubble after touching water. Soon you will find bubbles in the bathtub and water is blue. Lying in the bathtub, you feel as if you are in the sea. Of course, this is a "sea bath" with wonderful fragrance. Because the bath bomb add different kinds of plant essential oil and flower essential oil, the fragrance be different from other types of Bath Bomb. In order to have a better experience, you can choose the fragrance according to your preference.
We found that selling Bath Bombs in a blind box way may be more satisfying for customers. Blind boxes are as like as two peas in a package, which are placed in a similar color and shape. Our heart-shaped Bath Bomb blind box has different colors, red, blue, purple, etc..; There are also different fragrance, rose, jasmine, ocean, grapefruit and so on. This is definitely a very interesting and worthwhile product, you can try it.
Packaging: each Bath Bomb can be individually packaged with paper and then packed together in a box. At the same time, we can also pack according to your idea, which is generally allowed. It may be bumpy in transit, but you can rest assured that we will put foam paper in the middle to prevent impact. We promise to give you a satisfactory product.