Each dinosaur egg bath bomb hides a different dinosaur toy model, which is 2.7 inches long, twice the size of other sellers, which is safe enough for children.
our dinosaur toys are made of high-quality rubber materials and have passed the CPC certification. Please rest assured to buy.
| | |
| --- | --- |
| Product Name | dinosaur bath bomb with toys inside |
| Main Ingredient | Fragrance Essentials' Oils, Vegan ingredients and colorants |
| Grams | 120g/pcs |
| Shapes | Round shape |
| Fragrance | Mango |
| Advantages | Instock,7 days deliver |
| Function | Relax and Aromatherapy |
| Size | 58mm*82mm |
| Certificates | Available to sell in US markets and EU markets |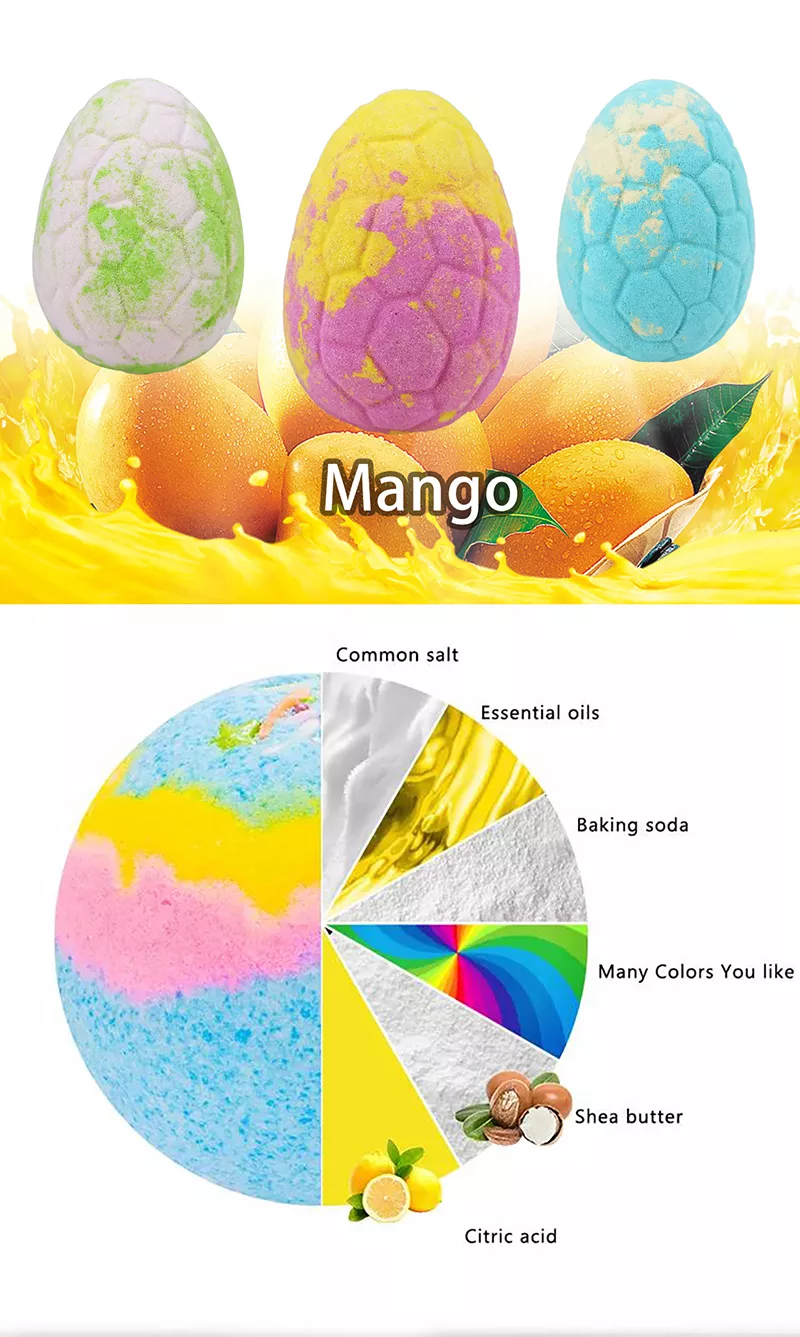 Which Bath Bombs Are Safe For Kids
Fun is basically guaranteed, but you may be wondering about safety, and yes, bath bombs are generally considered safe to use, according to Poison Control. Bath bombs are typically made of baking soda, citric acid, and maybe Epsom salt, and often essential oils, fragrances, and glitter or dyes as well. Keep an eye out for skin irritation from any of those extras, like essential oils or dyes, if your kiddo has sensitive skin. It's also a good idea to use bath bombs occasionally — not every day — and rinse off of your kid's skin and the tub when bath time is over.
How to use a Bath Bomb
Plug your bath tub.
Fill the bath with warm water (or whatever temperature you prefer).
Once the bath is full, get in the tub.
Add the bath bomb and watch it fizz and bubble!
Soak in the tub for 20 minutes, or longer, if you like.
After you're done soaking, drain the water and use a cloth to wipe down the bathtub, if there is any dye or oil residue.