Relaxing the Mind and Body
Immerse into a relaxed state like none experienced before, whilst improving your physical, mental and emotional well-being at the comfort of your home.
Feel the Galaxy Sensation
Each planet bath bomb takes you through a different journey. Create your own way to reach the stunning and refreshing feeling you desire.
A Treat for All Occasions
Surprise your loved ones and make them feel special no matter what the occasion is. Together we will spread
Each bath bombs stand for a real planet in the universe.
According to the feature of each planet, we create 8 emulational bath bombs which you will amaze at its level of similiarity.
Comparing with other bath bombs with a sigle color,our KHH store spares no efforts to replicate the real planets to the maximum extent possible. They cannot be found from any other brand except KHH.
An educational teaching tool to improve parents-kid relationship.
Sometimes, you may spend bath time with your kids and the bath bombs will turn out to be a quite educational teaching tool. You can introduce something about the planet to your kids and provoke your kids'interest in exploring the universe.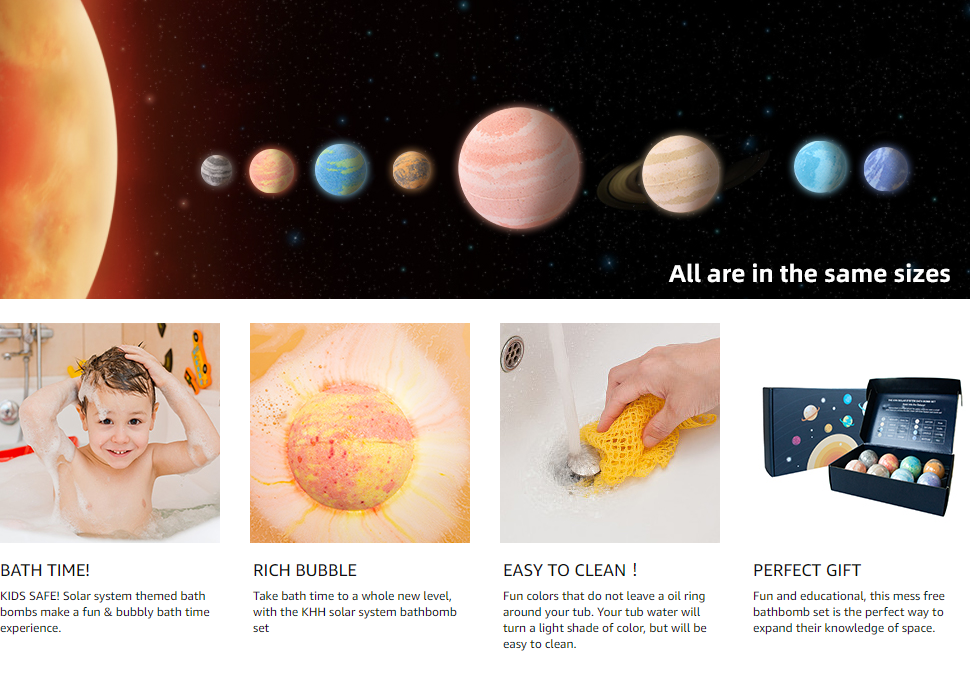 Choose a planet you want.
What's more, each bath bomb or each planet owns a unique smell to refresh you. You can choose a special planet depend on your mood of that day.
Planet information and scents
Mercury:the closest planet to the sun. Green Tea: smells bright, refreshing and cheerful
Venus: the hottest planet Lemon: smells just like real, zesty fruit and peel
Earth:the only known location where life is present Ocean: clean, refreshing scents
Mars: the most widely searched planet for life. Orange: fresh, baby-like, soapy clean scent
Saturn: the most numerous satellites Rose: sweet
Uranus: the last to be discovered Vanilla: rich, syrupy scent that exudes warmth in a uniquely alluring way
Jupiter:the largest planet of the Solar System Mint: a lingering cool
Neptune: the first planet to be discovered Lavender: a delicate, sweet smell