What is a Bath Bomb?
Bath bombs, also known as bath fizzers, are dry ingredients that are designed to effervesce once in contact with warm water. Once it hits the water, it releases essential oils, scents, colors, and bubbles to elevate your bath experience. Bath bombs can help condition the skin and soothe sore muscles. Additionally, they may help detox and relax the body and mind. The great thing about bath bombs is that they contain the precise amount of oils and bath salts that you would normally have to purchase separately. Not only does using bath fizzers speed up the bath time process, but they make the experience so much better.
How Does it Work?
The "bomb" aspect of a bath bomb is the fizziness. But what's going on in those spheres that make them so fizzy? Two of the key ingredients to a bath bomb are citric acid and sodium bicarbonate. You might also know sodium bicarbonate by its more common name, baking soda. These two ingredients are what cause the impressive and delightful fizz when the bath bomb enters the water.
When sodium bicarbonate (NaHCO3) comes in contact with water, the sodium (Na) molecules break off from the bicarbonate (HCO3). At the same time, the citric acid is dissolving, with a single hydrogen ion (H+) separating from the rest of the molecule. When the released hydrogen ion from the citric acid encounters the bicarbonate from the baking soda another reaction happens! This time, carbon dioxide (CO2) gas is released as one of the end products. The carbon dioxide forms bubbles in the soap and bath water, and rushes to the surface with a delightful fizz.
About us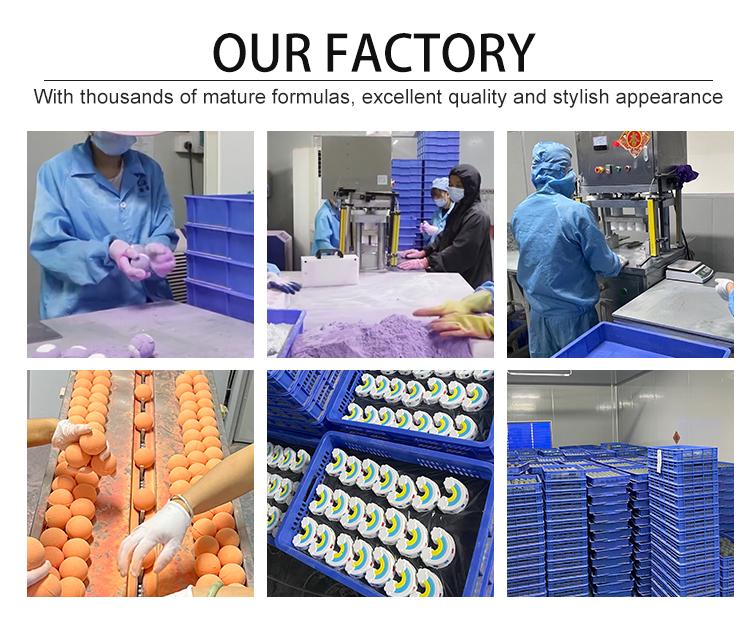 Boymay is a bath bomb manufacturer specializing in the research, development and production of bath products such as natural bath bombs, shower steamers, bath salts, handmade soaps, hand soap effervescent tablets and bath gift sets. We accepts OEM and ODM orders,including design,logo,box customization,because we have a professional R&D team to support you.
Customization details
| | |
| --- | --- |
| Product Name | whole sale Bath bombs |
| Usage | Body spa, Foot spa |
| Certificate | MSDS/GMPC/ISO22716/FEDEX |
| Shape | Ball-shaped, Customized |
| Fragrance | Lavender, Shea Butter, Rose, Jasmine, Lemon. Ocean and customer requests are available |
| Feature | Moisturizing, Cleaning, Refreshing |
| Color | The customer's color is available |
| Sample | Free samples will be offered 3-5days |
| MOQ | 1000pcs |
| Package | Customized with safety package |
| Delivery time | Within 20 days after the deposit payment |
| Using Directions | Simply drop it into your bathtub of warm water. Immerse your body in water for about 20 minutes for a relaxed and fun bath. |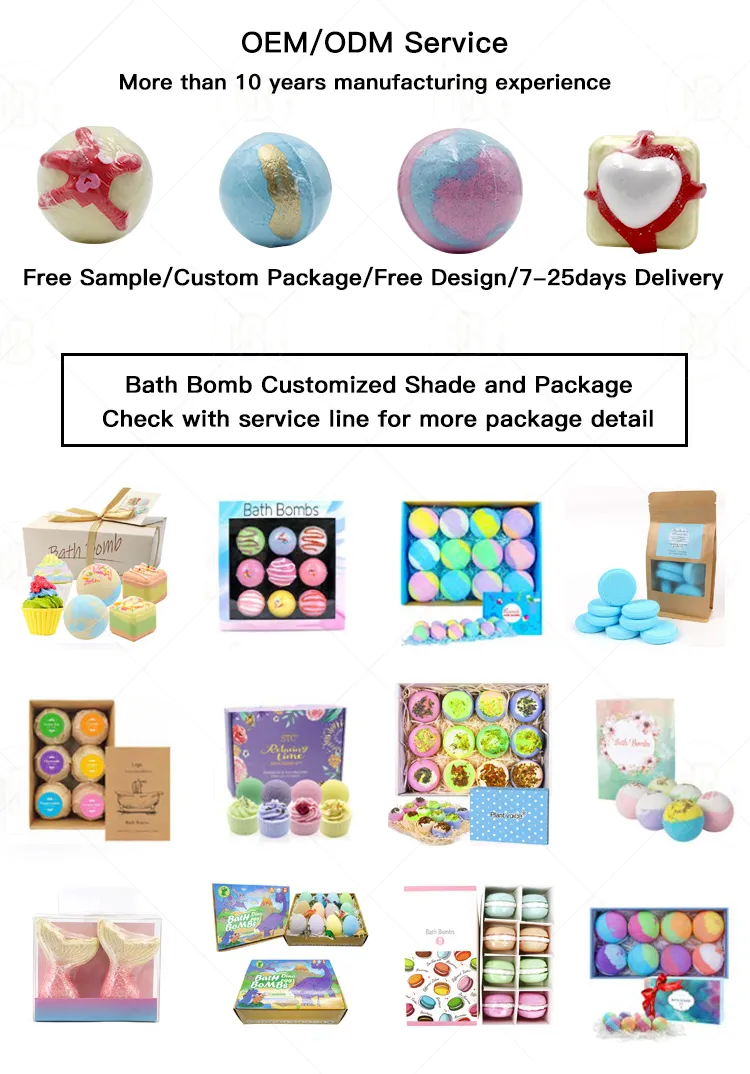 In addition to Eucalyptus Bath Bomb, we have other styles of bath bombs that may be right for you, you can check out the links below.
How to get it free:
Please read below the conditions for getting free sample:
1、You need to send us an inquiry before getting a free sample.
2、You need to pay for the shipping cost, it depends on your address.