1. The foam is colorful, especially the color does not remain and does not stain the bathtub.
2. Handmade, usually best. Environmental protection, does not pollute the earth, but also because it is handmade, the error range (10g-20g).
3. Put the colorful bath bomb into warm water, dissolve immediately, and the foaming effect can be achieved within a few seconds. Taking a shower can be fun.
4. Our bath bomb set are made with natural ingredients. All ingredients are child-safe. No artificial fragrance. Dye free! Vegan! gluten free! Phthalates Free! No preservatives!
1.Conventional :30/50/60/80/100/120g

2.Customizable

Rose,Lavender,Lemon,Orange, Bergamot, Grapefruit, Peppermint, Camomile,Jasmine,Rosemary,Sandalwood,Tea Tree, Pepermint, Clove,
Ginger, Eucalyptus, Ylang-Ylang, etc.

500PCS

1. Accept customized size and color

2. Accept customized logo and design

3. Accept customized fragrance and efficacy

Shipping Protect Packaging:





Product packaging

&

Packaging Box:


1.Shrink Film

2.Blister Aluminum

3.Foil Bag

4.Customizable Packaging & Packaging factory that can provide cooperation

3-5 Work Days

Yes, but we not in charge in shipping fee.

365 Days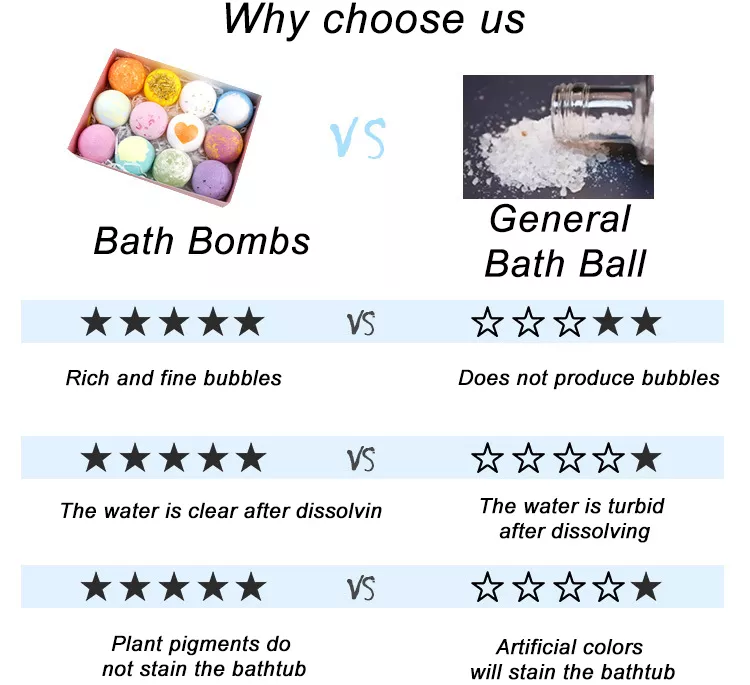 The Latest Formula: the latest ingredient ratio ensures good bubbling and floating effect. It will give you an amazing visual impression while putting it in the water. Natural materials have lower activity and longer storage time in the absence of water. It effectively solves the drawbacks that other bath bombs use chemical raw materials to cause internal foaming after storage for a period of time.
Organic & Natural:
All ingredients are made from natural organic Grape Seed Oil, Shea & Cocoa Butter, Organic Coconut Oil, etc. Lasting, gentle, nourishing, relaxed, without any stimulation or adverse reaction. It will not cause any skin injury. It is suitable for normal and dry skin. It can be used continuously to improve skin texture and make the skin smoother and more flexible.
Perfect gift ideas for party favors and wedding. This bath bomb gift sets is on many's wish list. Perfect for Fathers Day gifts, birthday gift, gifts for her, spa/bath gifts, for the special one, perfect gifts for mom, wife, girlfriend or women you love.