Each Easter Bath Bomb is meticulously crafted in the shape of an egg, capturing the essence of Easter traditions. When dropped into the warm water, it releases an explosion of vibrant colors, turning your bath into a delightful kaleidoscope of hues. The captivating display will surely uplift your spirits and add an extra touch of excitement to your bathing ritual.
For added customization, we offer options for packaging, allowing you to create a personalized and festive presentation. You can choose from a variety of scents and colors to align with your Easter-themed preferences and create a truly memorable gift-giving experience.
Customization details
| Customization Options | Details |
| --- | --- |
| Shapes | Eggs, bunnies, carrots, chicks, flowers |
| Colors | Pastel colors - pink, purple, blue, yellow, green |
| Scents | Sweet scents - vanilla, strawberry, cotton candy |
| Surprises | Mini rabbit toys, stickers, candy, confetti |
| Packaging | Gift bags, boxes with Easter patterns |
| Branding | Custom logo, label designs |
| Order Quantity | 1000 bath bombs minimum per variant |
| Certifications | FDA, GMP, ISO certified facility |
Let us know your preferences for shapes, colors, scents and surprises. We'll create joyful custom Easter bath bombs for your brand!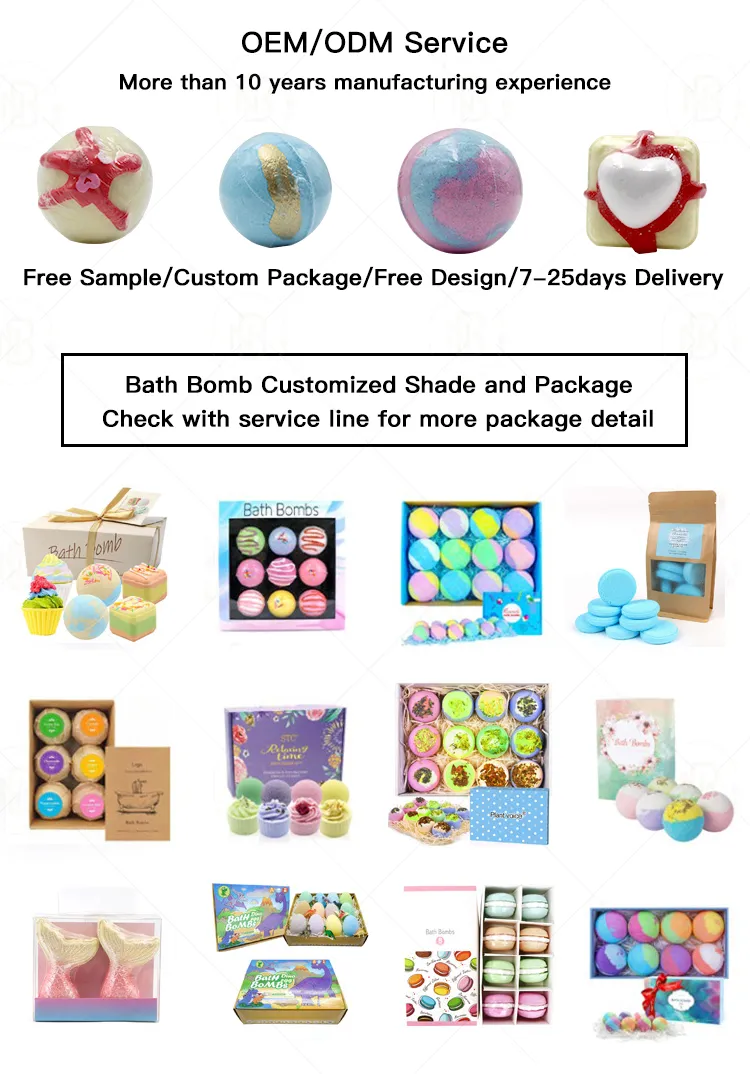 Our Services
1. We can give professional suggestions for the design of both the product and the package.
2. We can make customized free samples, if the sample can not be acceptable for the first time, we will improve it and make it again for free.
3. If the goods were damaged when you received their goods, we will make them again for free.
4. Your requirements and complaints are highly respected.
5. Necessary tests and certifications can be obtained as you request
6. We can provide the service for packing if you have your package supplier.
Bath bombs make thoughtful, affordable holiday gifts. Their pleasant scents, fun fizzing action, and colorful designs bring joy.Here are some other holiday bath bombs made by our factory that you might like.
FAQ
A) How could I get a free sample?
Before we received the first order, please afford the sample cost and express fee. We will return the sample cost back to you
within your first order.

B) Sample time?
Existing items: Within 15 days.

C) Whether you could make private label on your products?
Yes. We can print your Logo on both the products and the packages if you can meet our MOQ.

D) Whether you could make your products by our color?
Yes, If you can meet our MOQ,The the color, shape and smell of the product all can be customized

E) How to guarantee the quality of your products?
1) Strict detection during production.
2) Strict sampling inspection on products before shipment and intact product packaging ensured.