The bath bomb Molds allow you to create bath bombs yourself and are quite superior to other similar products due to the many benefits they offer:
Premium Brushed Finish and Smooth Surface for Professional Quality Molds
Metallic Molds ensure durability and serve you over larger number of cycles
Perfect Shape and Size - 2.55 inch wide by 1 inch tall sphere shape
Smooth finish ensures ease of removing balls from the molds
Optimum size ensures that mixture holds together without falling apart
Come in 2 Spherical Halves to make the mold easy to use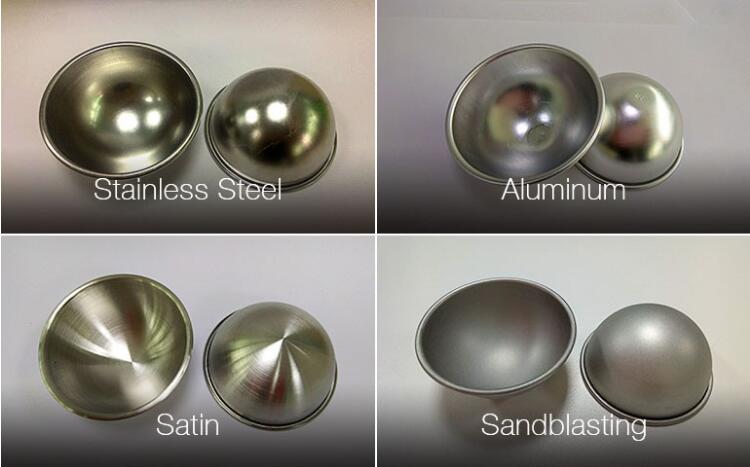 Product Features:
Premium bath bomb molds - Creating professional quality bath bombs gets simplified with these incredible bath bomb molds. not only do you get amazing spherical balls but superior finish too.
Easy to use - The bath bomb molds are easy to use. they come in 2 spherical halves such that both the halves can be filled with the prepared mixture and pressed together to provide you the refreshing and rejuvenating bathing balls.
Better than plastic - Our bath bomb molds are made with 304 metal to ensure that they are durable enough to survive the bath bomb making process and last for several cycles without the need to reinvest. these molds, unlike plastic molds, prove to be a much wiser investment.
Perfect size - The bath bomb bowls come in a size that is perfect for holding all the ingredients or the mixture as a whole together. the bigger sizes do not easily hold together and smaller ones just do not provide the sufficient diffusion in the water.
Customization details
| | |
| --- | --- |
| Material | Food grade AISI 304 Stainless Steel |
| Size | 25mm 45mm, 55mm, 65mm, 75mm, 85mm |
| Thickness | 0.4mm-0.8mm |
| OEM | Polishing, Satin, Sandblasting |
If you want to wholesale bath bomb making kits, you might want to take a look at the products in these links.
Packaging & Shipping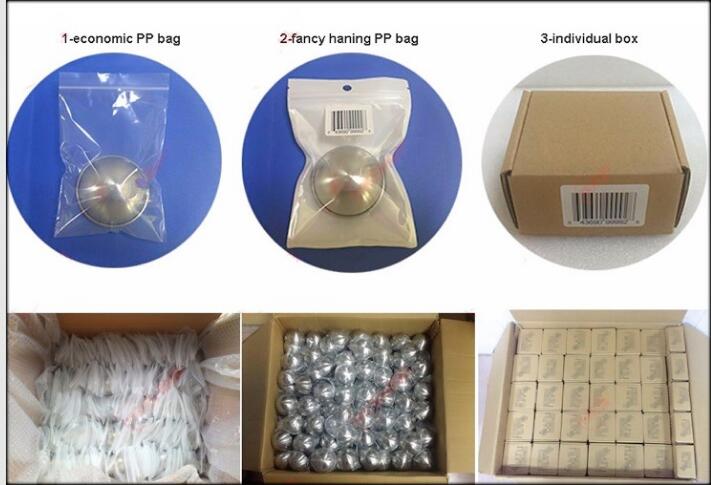 Our Services
1. We can give professional suggestions for the design of both the product and the package.
2. We can make customized free samples, if the sample can not be acceptable for the first time, we will improve it and make it again for free.
3. If the goods were damaged when you received the goods, we will make them again for free.
4. Your requirements and complaints are highly respected.
5. Necessary tests and certifications can be obtained as you request
6. We can provide the service for packing if you have your own package supplier.