Our rainbow bath bombs for Kids are carefully crafted with vibrant colors that create a mesmerizing display as they dissolve in water. Each bath bomb releases a spectrum of rainbow hues, transforming the bathtub into a magical oasis. Watch as your child's eyes light up with delight as they witness the captivating colors swirling and twirling around them.
Made with highly concentrated coconut oil, sea salt and sunflower oil to better care for and smooth the skin.
Handmade Bath Bombs
Insist on handmade, each bath bombs has 2 times the organic ingredients of similar products, higher density, more brilliant colors and more stable fizz
Bath Bombs Gifts Set
rainbow bath bombs come in four different colors. Gorgeous rainbow, natural fragrance, handmade bath bombs, as gifts for Halloween, Christmas, birthday parties, suitable for kids, women, families.
Contact us today to discover more about our Rainbow Bath Bombs for Kids and explore the customization and wholesale options available.
Customization details
| Customization Options | Details |
| --- | --- |
| Colors | 7 rainbow colors - red, orange, yellow, green, blue, purple, pink |
| Shapes | Fun shapes like stars, hearts, animals, vehicles, food |
| Scents | Kid-friendly scents like strawberry, bubblegum, vanilla, candy |
| Ingredients | Natural moisturizing ingredients, vegan and organic options |
| Surprises | Small plastic toys, temporary tattoos, stickers, confetti |
| Packaging | Gift boxes, bags, jars with rainbow colors and fun designs |
| Labels | Custom branding, name, logo, label designs |
| Age Groups | Select surprises suitable for ages 3+, 5+, 8+ years |
| Order Quantity | 1000 bath bombs minimum per variant |
| Certifications | FDA registered facility, GMP, ISO certified |
Let us know your preferences for shapes, scents, surprises and packaging. We'll create colorful custom rainbow bath bombs for kids!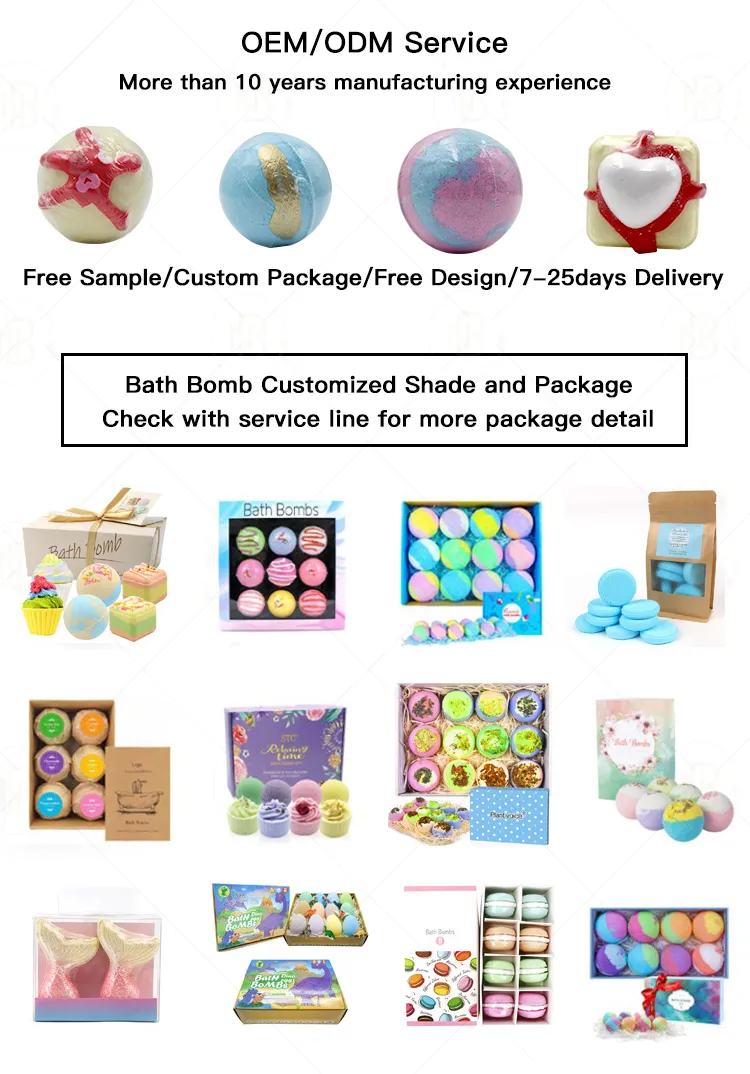 Our rainbow bath bombs feature vibrant colors, dissolve quickly, and create plentiful bubbles. You may also want to check out our other rainbow bath bomb varieties.
Our Services
1. We can give professional suggestions for the design of both the product and the package.
2. We can make customized free samples, if the sample can not be acceptable for the first time, we will improve it and make it again for free.
3. If the goods were damaged when you received the goods, we will make them again for free.
4. Your requirements and complaints are highly respected.
5. Necessary tests and certifications can be obtained as you request
6. We can provide the service for packing if you have your own package supplier.
FAQ
1. Can you do custom bath bomb branding?
We are an OEM bath bomb factory, we can help you with sampling and formulation, sourcing and sourcing of raw materials and packaging materials, and work design.

2. Do you have other packages? Because I don't like the packages you guys are offering right now.
Yes, we can change other packages according to your requirements. We will introduce some others to you first, or we can design according to your drawings.

3. Are you a bath bomb manufacturer or a trading company?
We are a professional manufacturer with more than 300 workers in Huizhou, China.

4. What is the MOQ for your OEM products?
The minimum order quantity per item is 1000.