Our Relaxing shower steamers are infused with carefully selected essential oils known for their calming and stress-relieving properties. As the steamer dissolves in the shower, it releases a burst of delightful fragrances that envelop your senses and promote relaxation.
We use only the finest ingredients to ensure a premium product. Our shower steamers are crafted with a blend of natural and nourishing ingredients, free from harsh chemicals, to provide a gentle and pampering experience for your skin and senses.
Bed Time Relaxation & Nasal Congestion Relief
Infused with essential oils imported from the UK, our heavenly Eucalyptus scent will give you a great relaxing night of well rest.
A Deluxe Home Spa Experience
Lasting longer than standard shower sinus tablets that melt too fast, our shower tablet set is ideal for modern women who want to feel rejuvenated the natural way.
We offer customization options for our Relaxing Shower Steamers. Whether it's the choice of essential oils, colors, or packaging design, we can tailor the product to align with your brand and customer preferences.
Customization details
| Customization Options | Details |
| --- | --- |
| Shapes | Hearts, flowers, leaves, geometric shapes |
| Scents | Eucalyptus, lavender, mint, citrus |
| Colors | Light pastel colors, earth tones |
| Ingredients | Essential oils, clay, herbs, salt |
| Packaging | Cello bags, craft boxes, jars |
| Branding | Custom logo, label designs |
| Order Quantity | 1000 units minimum per variant |
| Certifications | FDA registered facility, GMP certified |
Let us know your preferred shapes, scents and packaging. We'll create relaxing custom shower steamers for your brand!
What Is a Shower Steamer
A shower steamer is essentially like your bath bomb, but for your shower. They are tablets that fizz as water or steam touch them, then release an incredible scent depending on what oils are blended into the shower steamer. You can find them in any size, color, and aroma.
Besides the inviting scent they provide, shower steamers are also soothing and can help with recovery. Many people have used them to reduce stress and improve rest and relaxation or provide a quick jolt of energy. These aromatherapy benefits are because of the essential oils used in the shower steamer.
Key ingredient
Sodium bicarbonate, Citric acid, Lavender, Peppermint, Eucalyptus, Tea tree essential oil etc
Put a relaxing shower melts on the floor, when the water flows down the relaxing shower melts, it will emit a strong fragrance, allowing you to relax and release stress in the shower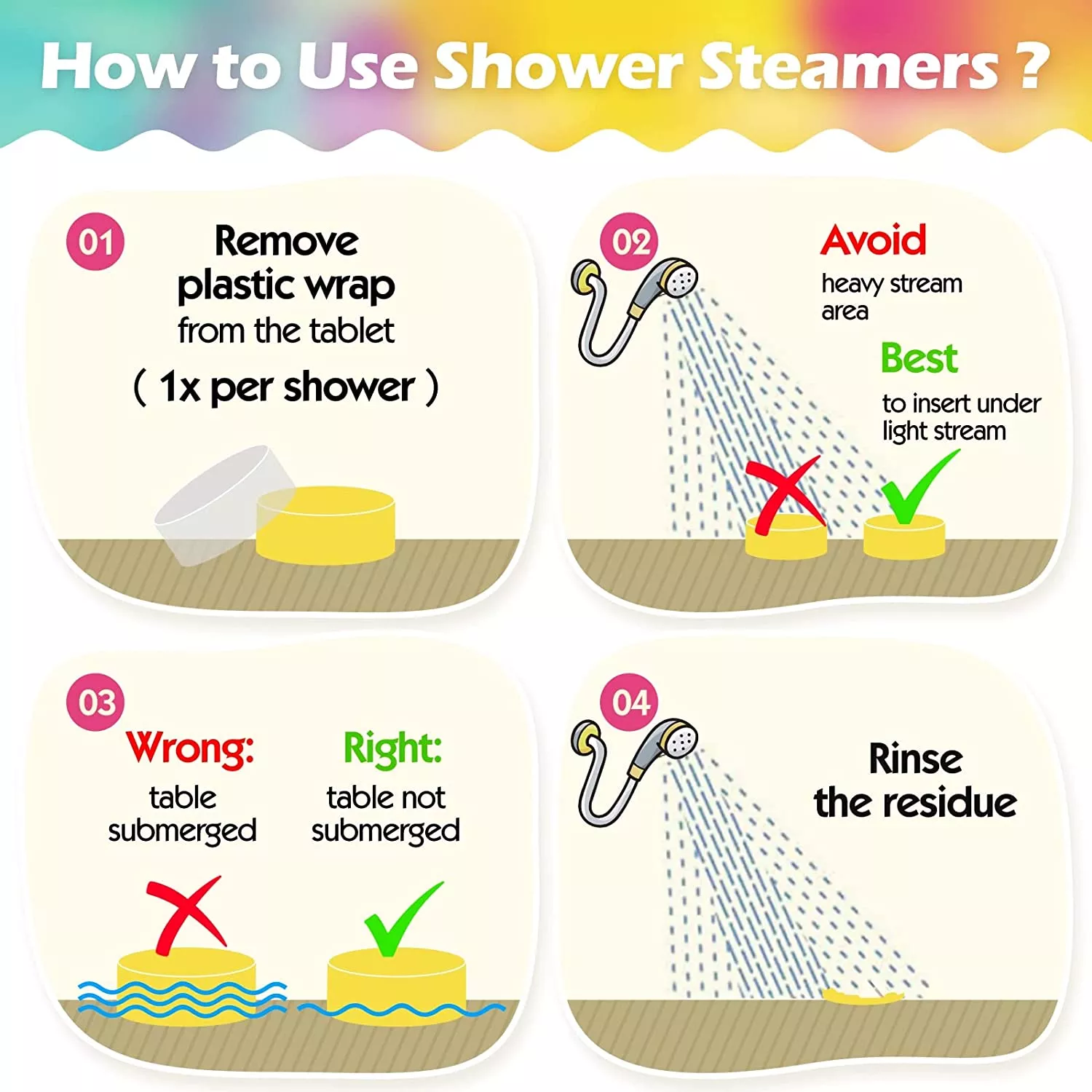 How to get free samples
1、You need to send us an inquiry before getting a free sample.
2、You need to pay for the shipping cost, it depends on your address.
If you are interested in shower steamers products, these styles of shower steamers you can also pay attention to.
FAQ
Q: What about your delivery time?
A: If you need OEM/ODM, About 40 days;
B: Order products under our brands, If order products under our brands, The fastest is about 7-10 days, and the delivery time is within 3 days if with stock.
Q: What kind of certification do you have?
A: We have certification for products, and we are an ISO 22716-2007/ISO 9001- 2008/GMP certified bath bomb factory, At the same time, different certificates can be provided according to the needs of customers.
Q: What about your payment terms?
A: By T/T, 30% prepaid, balance against the copy of BL, Support multiple payment methods; online payment, customs inspection services can be provided, Safe and guaranteed.
Q: Can I have our logo on the product?
A: Yes, your customized requirements for color, logo, design, package, carton mark, etc.