It's not a simple bath bomb, but a bath bomb with lovely toys inside. Let children who don't like bathing fall in love with bathing and give them a surprise bathing process.
| | |
| --- | --- |
| Product Name | Skin Care Products with Toy |
| Fragrance | Flower scents, Fruits scents and customized |
| Function | Cleansing, Moisturizing, Hydrating, Fresh and tender skin |
| Ingredients | 100% Nature Ingredients, Milk, Coconut oil, Essential Oil, Sea salt |
| OEM/ODM | Accept |
| MOQ | 1000pcs |
| Weight | 100g~250g |
| Shape | Cartoon or customized |
| User | Baby, Kids, Adult |
| Package | Customized with safety package |
| Payment Methods | T/T, DP, L/C, Western Union, PayPal |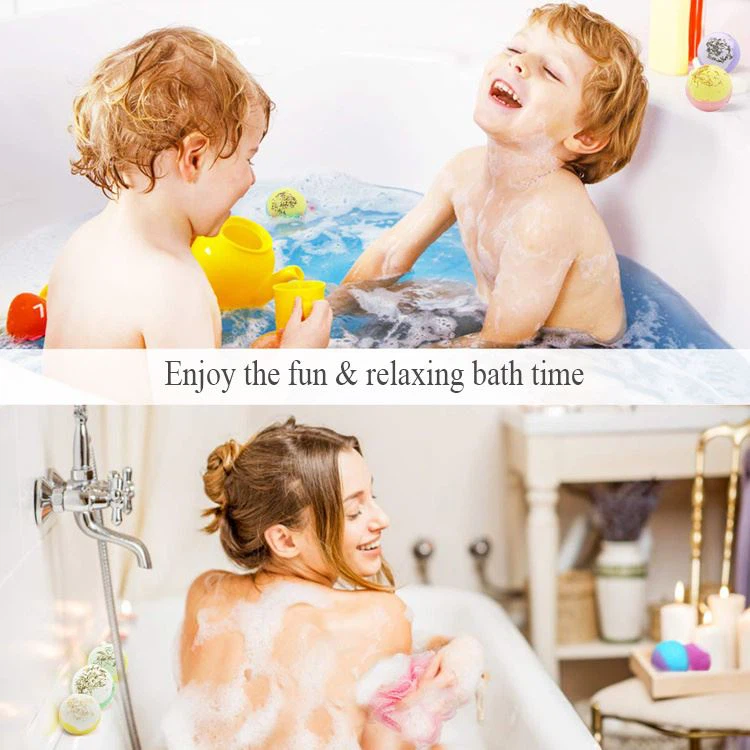 How to encourage children to wash? You just buy him a piece of our toy soap. This mild smelling glycerin soap can be clearly seen embedded in a small toy, a small turtle, a small octopus, a small rabbit, etc. each toy is different. If you want dinosaur in it, you can contact me. These make the process of bathing and washing hands fun for children and make them wash more actively in order to get the toys inside.
When taking a bath, we prepared this toy bath bomb for the children. Like the dinosaur egg bath bomb, it is also a bath bomb with small toys inside such as chick, ducklings, unicorns, astronauts, monkeys, bananas, etc. These small toys can be set according to your needs. Because the bath bomb is not as transparent as soap, children can't see what's in it, so we have the blind box mode. We don't know what small surprises we will get in each bath, which will bring more interest to children, won't it?
Soaps can be customized with your favorite fragrance. Please believe that we provide high-quality essential oil soaps, which are very charming, fruit and milk soaps will be more popular with children. Bath bombs are amazing for children, it riotous with color of organic essential oils, which have colorful bubbles in the water, without chemicals, let children to travel in different fantasy worlds.
If you want to put a small greeting card, you can contact us. We can put a simple greeting card. Give your lovely children this gift and they will be very happy.