Create Magic in your bath with our Rainbow Cloud bath bomb, handmade with Natural and Vegan ingredients to set the mood for a relaxing spa experience. Our Bathbombs are Tear-Free and Kids Friendly.
Made with Plant Based skin loving ingredients, these rainbow bath bombs add color to your bath without staining the bathtub or irritating your skin. They dissolves cleanly without leaving a residue.
Our Kids Bubble Bath Bombs are created with both kids and adults in mind, we handpicked aromatic Essential Oils and Natural Fragrances that soothe mind and body and provide hours of fun to everyone
We know Moisturised Skin is important to you, so we added Organic Shea Butter and Sea Salt to keep moisture locked into your skin and keep your skin feeling fresh and moisturized all day long.
Loved equally by kids, toddlers, girls, boys, teens, women, and men, our cloud rainbow bath bomb gift set is perfect for all occasions; Valentines, Easter, Mothers Day, Christmas, and Birthdays

| | |
| --- | --- |
| Product Name | Factory Direct Handmade Luxury Organic diy rainbow cloud bath bomb |
| Main Ingredient | Baking soda, Citric Acid, Organic Essential Oils, Shea Butter ect |
| Function | Relaxing Aromatherapy, Moisturizing Hydra, Firming, Nourishing, Luxury, Amazing |
| Fragrance | Existing scents: lemon, rose, lavender, orange, strawberry, rosemary, peach, green tea, jasmine, ocean etc and Accept customized |
| Brand Name | OEM/ ODM |
| Place of Origin | Huizhou, China |
| Package | Paper box+ Custom Packaging |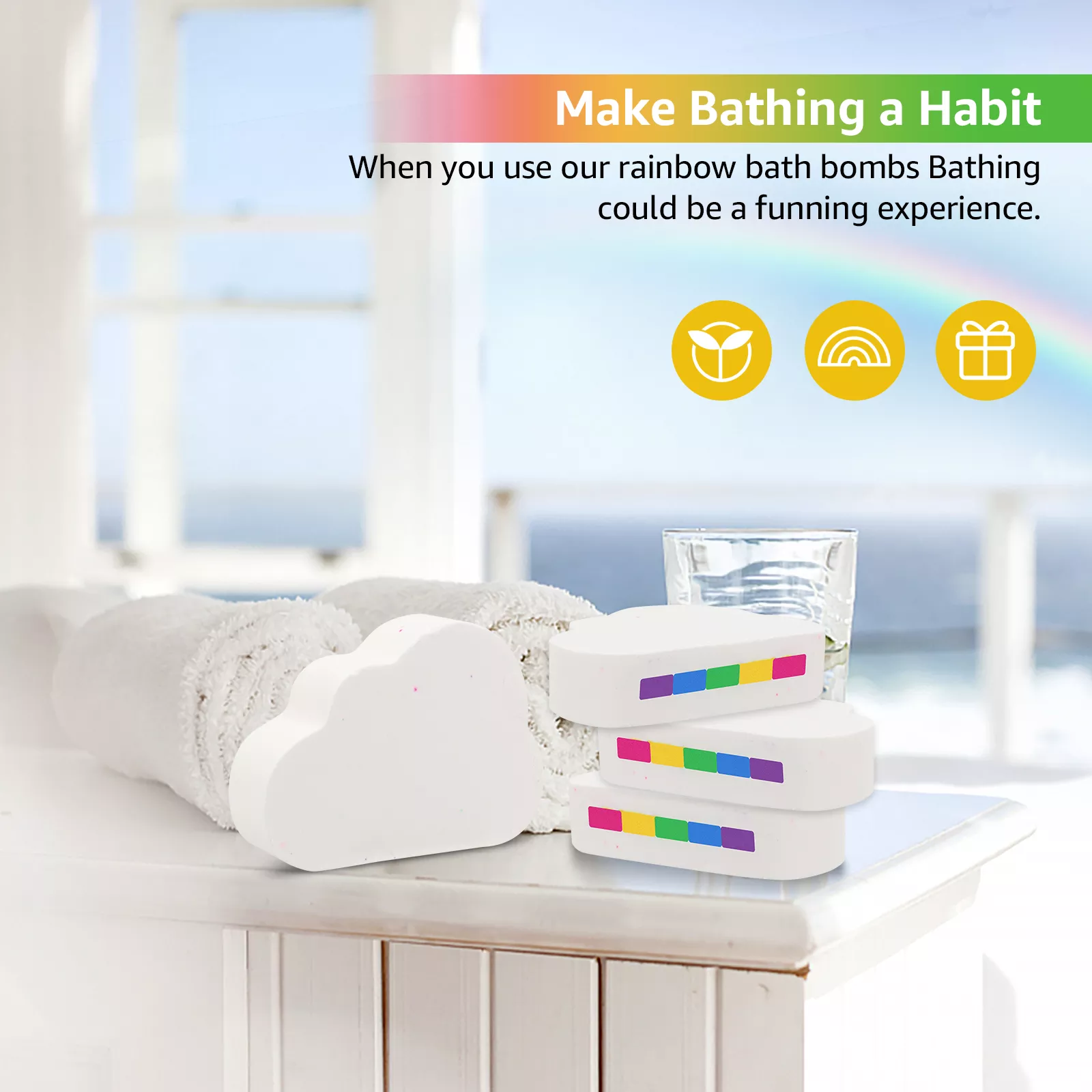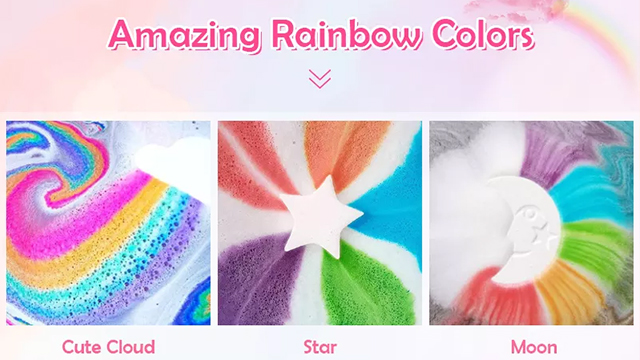 BodyNurse as a excellent bath bomb manufacturer and bath bomb supplier with more than 27 years of experience in the personal care and beauty field, mainly produces various bulk bath bomb wholesale supplies. Such as dried flower bath bombs, built-in toy bath bombs, crystal bath bombs, rainbow shower gel bombs, fruit bath bombs, streamers, etc. For bath bombs, we accept OEM ODM request. Besides bath bombs, we can also accept OEM designs for soaps, shampoo gels, masks, body lotions, etc.
---
Our Service
1) Provides any state any city standard certification.
2) Provide training, products, packaging, cleaning, transportation, maintenance, storage, repair and second-hand trade.
3) Provide low-risk strategies, financing, human resources, expansion, website marketing copywriting, etc.
4) Design and manufacture high quality, lighter weight and small package size products for your business. Easier to pack and transport.
5) Three-year long warranty.
6) Support one-stop OEM service