Here at bath bombs we offer the worlds largest selection of Jewelry Bath Bombs, Ring Bath Bombs, Ring Bombs, Cash Candles, Jewelry Candles and more!

| | |
| --- | --- |
| Name: | Chamomile/Rose/Mint/Orange Scent Bath Bomb With Ring Inside In Stock Immediate Delivery Each 90pcs |
| Ingredients: | Sodium Bicarbonate, Citric Acid, Aqua, Lavender Essential Oil, Batch Certified Colorants, Fragrance, SLSA (May contain Cream of Tartar, Milk Powder, Dead Sea Salt, Epsom salt & Polysorbate 80) |
| Weight: | 150g |
| Formula: | Regular formula/ Advanced formula✔ |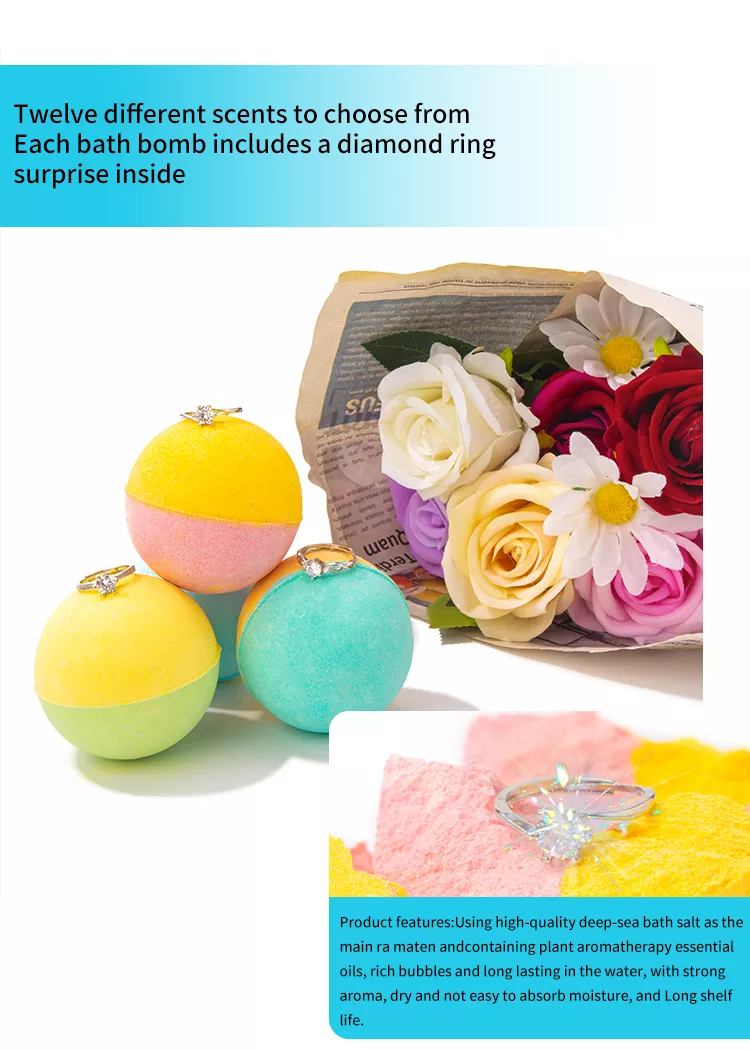 What is a Bath Bomb?
Bath bombs, also known as bath fizzers, are dry ingredients that are designed to effervesce once in contact with warm water. Once it hits the water, it releases essential oils, scents, colors, and bubbles to elevate your bath experience. Bath bombs can help condition the skin and soothe sore muscles. Additionally, they may help detox and relax the body and mind. The great thing about bath bombs is that they contain the precise amount of oils and bath salts that you would normally have to purchase separately. Not only does using bath fizzers speed up the bath time process, but they make the experience so much better.
How Does it Work?
The "bomb" aspect of a bath bomb is the fizziness. But what's going on in those spheres that make them so fizzy? Two of the key ingredients to a bath bomb are citric acid and sodium bicarbonate. You might also know sodium bicarbonate by its more common name, baking soda. These two ingredients are what cause the impressive and delightful fizz when the bath bomb enters the water.
When sodium bicarbonate (NaHCO3) comes in contact with water, the sodium (Na) molecules break off from the bicarbonate (HCO3). At the same time, the citric acid is dissolving, with a single hydrogen ion (H+) separating from the rest of the molecule. When the released hydrogen ion from the citric acid encounters the bicarbonate from the baking soda another reaction happens! This time, carbon dioxide (CO2) gas is released as one of the end products. The carbon dioxide forms bubbles in the soap and bath water, and rushes to the surface with a delightful fizz.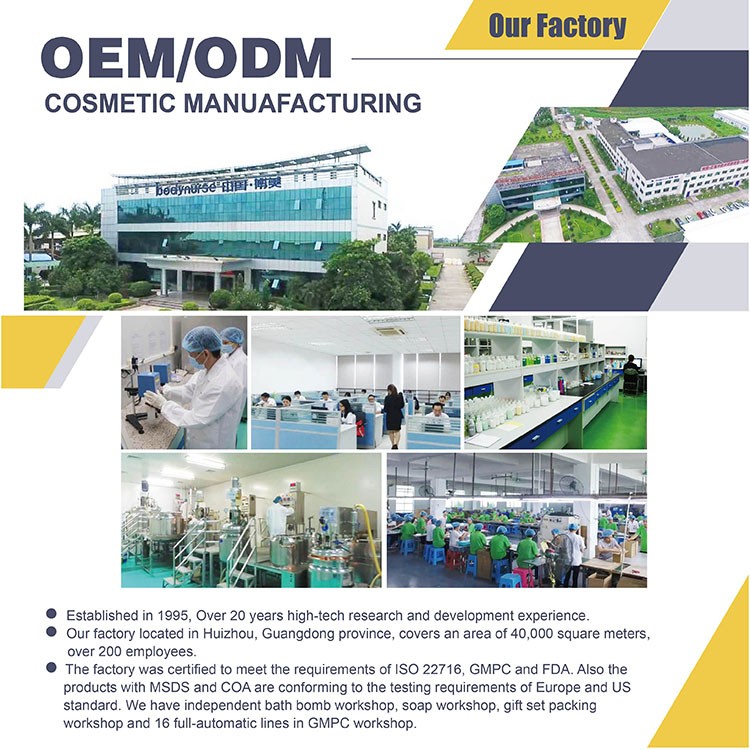 Huizhou Boymay Cosmetics Industrial Co., LTD., founded in 1995, is a collection of research Development, production, processing, distribution in one of the enterprises. Since its inception, it has developed into a Modern production scale of medium-sized cosmetics enterprises. The company has advanced production equipment and perfect For the pursuit of enterprise development and progress, to meet the needs of the market and consumers. We continue to in-depth research, improvement, and launch a variety of high quality new products, especially In recent years, science and technology personnel according to the Chinese tradition of using natural plants for skin care and beauty On the use of Luofu Mountain rare medicinal materials, the use of the latest, unique formula, to develop 'Shilang'

Brand shampoo, shower gel series and a variety of beauty and skin care products, by consumers green Lai production Product. In Guangdong Province and even nationwide occupy a certain market share, but also exported to Europe America, Southeast Asia, South Africa and other places. In addition to having advanced production equipment, excellent scientific research technology Technical talent, we also pay attention to the perfect quality. The company implements the total quality management system, strict To achieve the stability of product quality. Pomeranian will be recognized for its "first-class quality, a "Stream of reputation, first-class service" to repay customers.