Experience the refreshing power of eucalyptus with our Organic Eucalyptus Essential Oil Aromatherapy shower steamers Tablets. Crafted with care and expertise, these shower steamers are designed to invigorate your senses, clear your mind, and transform your shower into a rejuvenating oasis.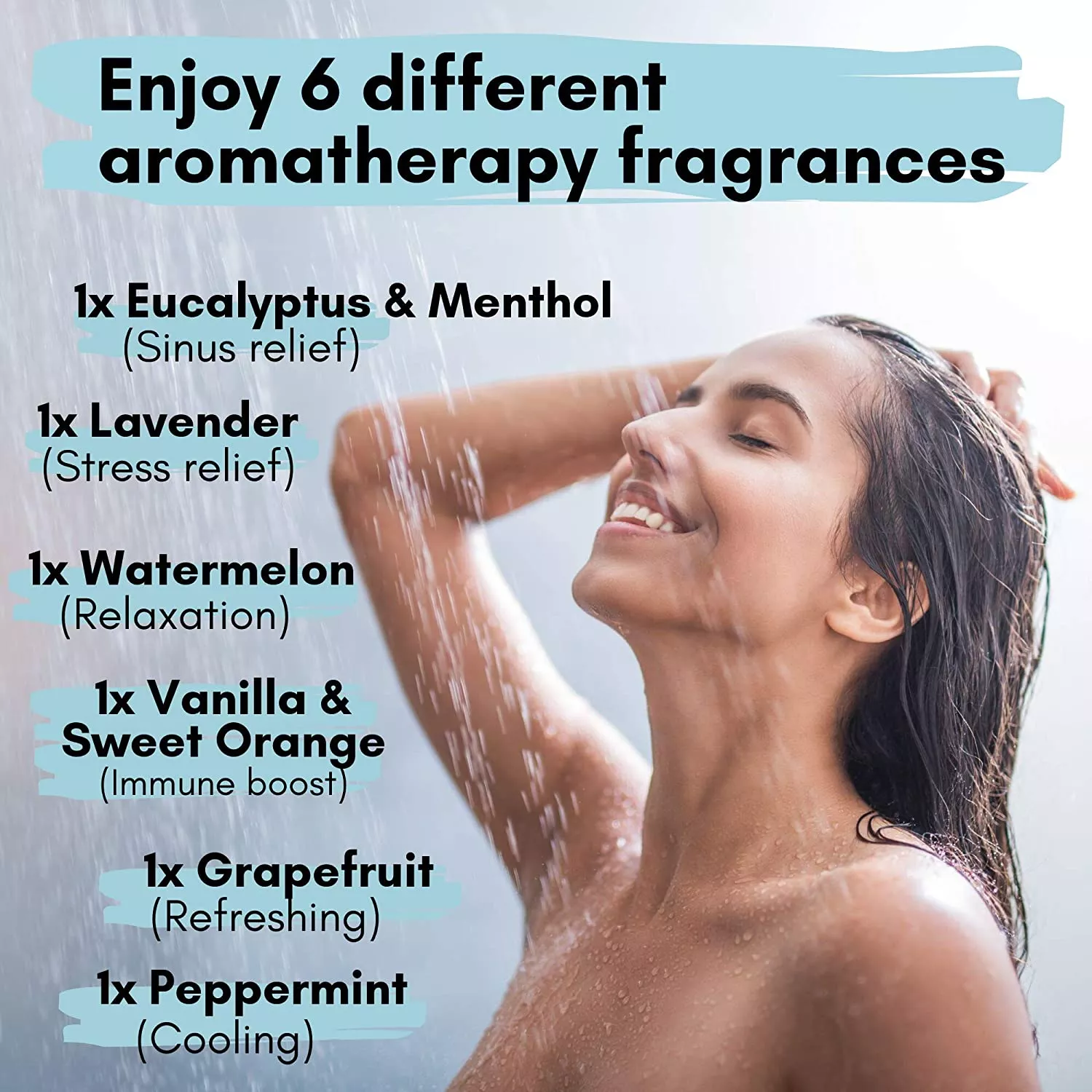 Benefits
1. Six Aromatherapy Shower Steamers With Natural Essential Oils for Home SPA Relaxation
2. The shower steamer is colorful and luxuriously crafted so that your shower experience will be far better than a normal one. It contains the goodness of essential oils, which can help you feel peaceful.
3. Natural plant extracts help you calm, relieve, and soothe in bathing or showering, and remove your fatigue and tiredness.
4. It can quickly dissolve in water and is easy to clean after use.
We are dedicated to providing high-quality Wholesale & OEM services to meet your specific needs. Our factory gladly accepts OEM and ODM orders, allowing you to customize the design, logo, and packaging according to your brand's requirements. With the support of our professional R&D team, we are committed to bringing your vision to life and ensuring your utmost satisfaction.
Customized Details
Product name

essential oil shower steamers gift set

Main function

Refreshing, Perfumed, Bubble, Moisturizing, Smoothing

Supplier Type

Manufacturer direct sale, one stop skin care supplier.

MOQ

1000pcs / In stock, One day delivery, Provide sample service.

Service

Wholesales / Drop shipping.

OEM/ODM, Private Label, LOGO, Packaging customization.

Purchase of raw materials, Transportation solutions.

Delivery Time

US / Mexico Local Warehouse, Fast delivery.

3 to 7 days by air, 25 to 45 days by sea, Land Carriage 10-15 days.

Payment Terms

T/T, Western Union, Bank Transfer, PayPal, Alibaba Trade Assurance.
For custom colors, fragrances, quantities, or any inquiries, please message us. We're here to accommodate your unique needs and ensure a successful partnership.
why choose us
1. We have 27 years of experience in the beauty and personal care industry, including 15 years of export experience.
2. Our factory has more than 50 professional equipment and machines, and the two factories add up to more than 20 production lines.
3. We can provide a full range of customized services. As long as you contact our salesperson through the link below to put forward your customized needs.
4. In terms of product quality, you can rest assured. Because we have a mature quality inspection team for 15 years.
5. We have participated in many large-scale offline beauty and personal care industry exhibitions. For details, please refer to the store homepage.
6. We have a product development team with 15 years of mature experience and unique technical formula.
If you are interested in shower steamers products, these styles of shower steamers you can also pay attention to.
FAQ
Q: what about your delivery time?
A: If you need OEM/ODM ,About 40 days;
B: Iforder products under our brands , If order products under our brands ,The fastest is about 7-10 days,the delivery time is within 3days if with stock.

Q: what kind of the certification do you have ?
A: we have certification for products , and we are ISO 22716-2007/ISO 9001- 2008/GMP certified bath bomb factory,At the same time, different certificates can be provided according to the needs of customers.

Q: what about your payment term ?
A: By T/T, 30% prepaid ,balance against the copy of BL,Support multiple payment methods;online payment,customs inspection services can be provided, Safe and guaranteed.

Q: Can I have our logo on the product ?
A: Yes, your customized requirements for color, logo, design, package, carton mark, etc.